Fans of Fairy Tail Final Season will be ecstatic to see the latest Pop Up Parade figure release — the Pop Up Parade Lucy Heartfilia: Aquarius Form Star Dress figure — which, let me just say, is really really lovely.
The teenage wizard is one of the most popular characters from Fairy Tail.
After all, Lucy was already popular as a character in Hiro Mashima's hit manga series but, when she appeared in Fairy Tail the Movie: Phoenix Priestess and then again in Dragon Cry, she really grabbed fans' attention.
What are the features of the Pop Up Parade Lucy Heartfilia: Aquarius Form figure?
The Lucy Heartfilia: Aquarius Form figure is approximately 170mm (6.69 inches) in height.
She is wearing a blue and beige zigzag-striped bikini top and the same colored wrap-around mini skirt with a cute frill. She has frilled sleeves around each arm that are tied with a ribbon.
In other words, her popular Aquarius Form Star Dress.
Delicate and lovely espadrille sandals adorn her feet, and she has a ribbon tied around her right thigh. Her left leg is slightly raised as if she is posing for you.
Lucy's hair is in pigtails with sweet little bows in true Aquarius Form fashion.  She also has huge brown eyes, and just a fleeting smile on her pretty face.
The figure was sculpted by sculptor Hose with her left hand placed coquettishly behind her head, while her right hand is flung out behind her.
Now didn't Good Smile do a great job in re-creating Lucy's Aquarius Form just like in the anime?
Lucy's Pop Up Parade figure is a painted ABS&PVC non-scale product, and comes with a stand.
You can pre-order Lucy now for $38.99 via Good Smile in the U.S. or Canada until Wednesday, July 14th, 2021 at 23:59PST.
Outside the U.S. or Canada, you will need to grab her at Good Smile Japan.
Watch Fairy Tail on Crunchyroll.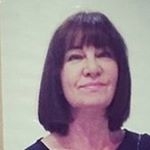 Latest posts by Michelle Topham
(see all)