Public Enemy 'State of the Union (STFU)' video urges vote Trump out
Outspoken and in-your-face hip hop group Public Enemy has made their anti-Trump feelings known with the release of a new protest song called 'State of the Union (STFU)'.
The track and its official music video was released yesterday in commemoration of Juneteenth (June 19th), and make it plain how much they detest Trump and his racism and bigotry, and how another four years in the White House for this current administration should not be remotely close to the realm of reality.
With lyrics like;
Whatever it takes, rid this dictator
POTUS my tail, Ass debater
Prime-time Preemo, rhyme-time crime
Like no other in this lifetime
White house killer, dead in lifelines
Vote this joke out, or die tryin'
Public Enemy want their fans to know voting in November against this "Motherf**ker ' is the only thing anyone who cares about racism and bigotry should be doing this year.
The mostly black and white 'State of the Union (STFU)' music video produced by DJ Premier features news footage from the on-going protests against police brutality and the deaths of both George Floyd and Rayshard Brooks.
The notation under the music video from Public Enemy states simply:
"All we know is Trump has gotta go…. We shot this video in secret in the dead of the night. PEace Chuck D and Flavor Flav".
A statement the group put out about the song talks about it not being enough to want change but that people must "show up and demand change".
To make it even more likely their fans will listen and act accordingly in November, Public Enemy is providing the song as a free download on their website and on all major streaming platforms.
If you do download it, the track comes with a logo, the original artwork for the song and a lyric sheet, and is from their upcoming album Nothing Is Quick In The Desert.
You can grab all of that on their website and then, of course, take Public Enemy's message to heart and remember to get your asses to the voting booth in November so you can "end this clown show for real".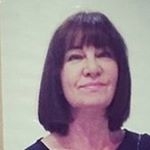 Latest posts by Michelle Topham
(see all)