A little known Ricky Gervais fact is that the British comedian, writer, actor, producer started off life in the entertainment business as the singer in a new wave duo called Seona Dancing.
Something Gervais doesn't talk about that much. But not because he is ashamed of how he looked while a member of the duo (hint: Ricky Gervais was a hot boy when he was young), but instead he is embarrassed at how he looks today.
That was absolutely evident when Gervais made an appearance on The Graham Norton Show last night and talked about his latest movie David Brent: Life on the Road — a spin off of his hit TV series The Office.
The premise of the movie is that Brent decides its time to follow his boyhood dream of becoming a pop star. The problem is he's terrible at it, and he's about 20 years too late.
This then, of course, led to Graham showing photographs of Ricky Gervais as a member of Seona Dancing. Photographs that prove Gervais was, yep, a hot boy.
But, while you would expect him to be embarrassed about dated photographs from the early 1980s, Gervais said he wasn't at all. Instead he was mortified by what he looks like nowadays.
As he explained, "I'll tell you what happened? Pizza happened".
Watch Ricky Gervais talking about being a hot boy on The Graham Norton Show in the video below. As usual, he's self-deprecating and hilarious.
And then, of course, watch a long-lost video of Seona Dancing performing their single 'More To Lose' live on the British show Razzmatazz in 1983 — and, yes, that is Ricky Gervais singing, while sounding and looking like David Bowie.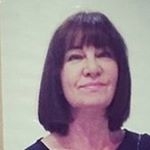 Latest posts by Michelle Topham
(see all)