Gorgeous British singer Rita Ora added another tattoo to her collection this week, and this one is one of the sweetest ones she has so far. It's a tattoo of a ballerina, which Ora chose to have the tattoo artist hand-draw and then ink onto her right upper arm.
While some people are saying Ora's ballerina tattoo is 'tattoo therapy' due to her recent break up with boyfriend Calvin Harris, I doubt it's that at all. Rita Ora loves tattoos, has lots of tattoos and, when she finds another strong woman image she likes she tends to add it to her collection.
In the past, Ora has had tattoos done of a pin-up girl on her ribcage (see cover of Elle magazine below), and also has a large tattoo of Aphrodite the goddess of love.
Others in her collection are several finger tattoos, including ones that say 'Love', 'Promise' and 'Hope'. She also has names of family members tattooed on her body, and two wings on her ankle along with sundry other tattoos on her neck and arms.
I adore strong women; especially women who get tattoos as it tells me they couldn't care less what anyone else thinks of their bodies or what they should do with them.
Rita Ora is another strong woman who adds tattoos to her body every time she feels like it. Good for her, I say.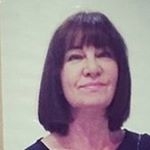 Latest posts by Michelle Topham
(see all)