Rosanna Pansino's 'Ro' baking line is cute — sprinkles, decorating bags, a candy melter and even a poo mold
Nerdy Nummies baker Rosanna Pansino has just launched her first baking line and it is really cute. The line is called 'Ro',  was designed in collaboration with Wilton, and is available as of yesterday. It includes just about anything a baker could want.
Pansino has been smart with the way she has designed her 'Ro' baking line as well, as she has added or amended things so that her products have features she always wanted when she first started to cook.
Things like Rosanna Pansino Disposable Decorating Bags but, instead of just having plain bags, she has added a line of red hearts. That way you know when the icing you are putting into the bag hits the first line of hearts you need to stop. Otherwise, the bag will get too full and icing will end up oozing out over the top of it.
The Rosanna Pansino Ball Pan is also cool as it helps you to bake two half circle cakes that you can then put together  and add icing to form a globe, a football, a cartoon head, a penguin — just about anything that is circular in shape.
The most useful item, at least for how I bake, is the Rosanna Pansino Covered Mixing Bowl Set. 
I love these bowls (there is a set of three of different sizes) because she has designed them to have a handle so that you can hold the bowl so it doesn't move around when you are mixing something in it.
Related: Rosanna Pansino makes Wonder Woman cookies that are vegan and dairy free and still DELICIOUS
They also stack, but the coolest things to me are the pouring spigot, making them perfect for pancake batter, and that she has measurements on the inside of the bowl in both U.S. measurements and the metric system.
Pansino also has a huge selection of icing decorations, sprinkles, food and candy molds, spatulas, cookie cutters and a cute candy melter.
All told, there are currently 41 items in Rosanna Pansino's 'Ro' baking line and, if you love the line but are not sure what to make with them, the popular YouTuber has an excellent Nerdy Nummies cook book as well.
All of the products in her line are geek or pop culture-themed, which are just the type of baked goods Pansino has been baking on her massively popular Nerdy Nummies YouTube channel for several years now.
All I can say is I'm surprised it has taken Pansino this long to create a baking line, but I'm glad she did. So many of the things she has designed are adorable.
You can check out Rosanna Pansino's 'Ro' baking line in her unboxing video below. She goes through the whole line to show you what is available and why they are different (and better) than similar products on the market. And, of course, they are manufactured by Wilton so the quality is superb.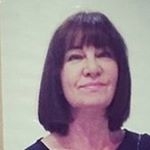 Latest posts by Michelle Topham
(see all)