It's official, Rosie O'Donnell just announced her engagement to corporate headhunter Michelle Rounds. It must have been love at first sight, as they've only been dating a few months yet, now they're engaged, and a Christmas wedding is on the horizon.
O'Donnell announced the engagement to her studio audience on Monday, during a commerical break.
O'Donnell was previously married to Kelli Carpenter, a Nickelodeon marketing executive, but the marriage only lasted three years, during which time they became adoptive parents to three children, Parker, Chelsea and Blake, and had a fourth child, Viviene, who was conceived naturally by Carpenter and a sperm donor.
O'Donnell said she met Michelle Rounds towards the end of the summer and, it seems, they've been inseparable every since.
In an interview in October though, O'Donnell had some cute things to say about the first time they met.
"I thought she was a 28-year-old heterosexual girl, because that's what she looked like to me. And she's a 40-year-old gay woman. My gadar was way off."
She then went on, "I think if I had known that she was gay, I wouldn't have been brave enough to talk to her."
Awwww. How cute is that!
About the engagement, on Twitter on Monday, O'Donnell said "so so so happy" and followed it with a photo of the happy couple.
O'Donnell, host of "The Rosie Show" on OWN, will be turning 50 next year and, good for her, she's planning on celebrating it in style.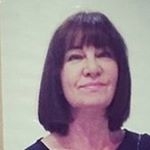 Latest posts by Michelle Topham
(see all)