Sure, you can't tell everything from a Eurovision rehearsal with a distant mic, but if this snippet of Switzerland's Rykka at her second rehearsal is anything to go by, she could end up being an easy finalist into the Eurovision Song Contest 2016 finals on May 14th in Stockholm.
Watch the short video below. Rykka has amazing energy, is absolutely on key (which she was not even close to during the Swiss National Final back in February), and looks happy and like she's having a hell of a lot of fun up on that stage.
Plus, check out that awesome outfit — a sleeveless black beaded top with cutouts and the coolest gauzy see-through long skirt. Gorgeous. (Go to the official Eurovision site for more photos).
Her song 'The Last Of Our Kind' is great too so, if she can look and sing like that during next Thursday's second semi-final, she seems like an easy finalist to me.
Just one comment.
While I do love Rykka's curly hair normally, and I think her current blue color is fabulous, having just seen her with straight blue hair for her second Eurovision rehearsal I have to say keep the straight hair, Rykka. It just adds a little more glamour than the curls do and, to me, fits the feel of the song perfectly.
Happy to see Rykka's second rehearsal go so well, though, as she's been one of my favorites since she emerged as the Swiss Eurovision 2016 representative. Go Rykka.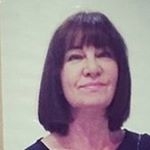 Latest posts by Michelle Topham
(see all)