Maraaya has awesome second rehearsal at Eurovision 2015 in Vienna
Maraaya, the Slovenian representative at Eurovision 2015, is one of the favorites of the entire competition, with fans all over Europe raving about their song 'Here For You'. So, to see Maraaya have a killer second rehearsal at Eurovision 2015 at the Wiener Stadthalle in Vienna yesterday wasn't a surprise, as they really do rock that song.
Maraaya consists of husband and wife team Raay and Marjetka. They are on stage at Eurovision with their friend, backing vocalist Manca Spik. And, while the staging is simple, with a camera mainly focusing on Marjetka's face, Manca playing the air violin, and a backdrop of just various colors of spotlights, it works very well.
After all, Marjetka is beautiful, her voice is incredible, and Manca plays the best air violin ever.
Watch Maraaya's second rehearsal at Eurovision 2015 in the video below. I'm guessing this one is going to be an easy qualifier for the grand final and will place very well in the entire competition.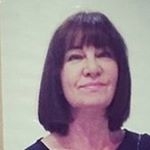 Latest posts by Michelle Topham
(see all)