If I had to place Winter 2023 anime series in a Top 10, The Tale of Outcasts would easily hit my Top 3.
It tells the story of Wisteria, an orphaned girl who is sold by a corrupt priest so she can become a torture subject for an insane nobleman, only to be rescued and befriended by Marbus, an immortal and mysterious being.
Along with what quickly turns out to be a lovely story, The Tale of Outcasts also comes with a gorgeous art style.
An art style that is perfectly showcased in the just released The Tale of Outcasts creditless ending animation, which also features the anime's ending theme song 'Rewrite' by Japanese rock band Hakubi.
An ending animation, by the way, that isn't actually animated, but is simply made up of stunning still visuals from the anime that would look beautiful on any wall.
The Tale of Outcasts is based on the manga by Makoto Hoshino, and is currently being published in English by Seven Seas Entertainment.
There are six volumes already out, with the seventh due to be published in May, 2023.
Seven Seas has this to say about the manga plot:
Wisteria is an orphan girl living in a corner of the British Empire at the end of the 19th century. Her life is desolate and bleak–until she encounters Marbas, a powerful but equally lonely immortal being with a furry appearance, hounded by hunters. Together, Wisteria and Marbas roam the Empire–populated by humans and human-like beasts–in search of a place where they can live together in peace.
Watch the just-released The Tale of Outcasts creditless ending animation, and enjoy those beautiful visuals, and that lovely ending theme song.
And, if you enjoy Hakubi's 'Rewrite' as much as I do, you can hear it in full in the Spotify player down below.
The Tale of Outcasts is currently streaming via Crunchyroll.
RELATED: The Tale of Outcasts has the prettiest opening theme song — Listen!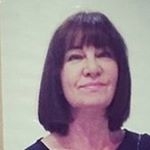 Latest posts by Michelle Topham
(see all)