View this post on Instagram
"Twittering Birds Never Fly: Clouds Gather" — a Netflix animated movie (now on @hidiveofficial ), the first in a series of three movies based on the manga series by Kou Yoneda that tell the story of Japanese Yakuza (mafia) boss Yashiro and his bodyguard Doumeki.
Due to being repeatedly raped as a teen, Yashiro is only able to have incredibly violent sex with other men, and unable to fall in love.
Then along comes Doumeki, an ex-con and a man who is equally broken, but who falls in love with Yashiro anyway.
Beautifully animated, gorgeous music, superb voice acting, with a story that is brutal but heart-breaking.
For me, stories like this always devastate me more than any other as, when it comes to men and love, I have always felt they are far more breakable than women.
And, when broken, they are sometimes impossible to mend.
As for Yashiro and Doumeki, there are still two more movies and a few more manga volumes before we find out if they end up together.
But ye Gods, I bloody hope so, as I don't think I'll cope if they don't.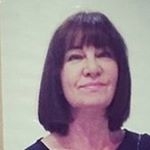 Latest posts by Michelle Topham
(see all)