The fabulous Trisha Yearwood was on The Ellen Show this week singing her latest single 'PrizeFighter' live, another one of those songs she always sings with a good message.
It's Trisha's title single from her just released new album 'PrizeFighter: Hit After Hit' and, according, to Yearwood,
 "The song 'PrizeFighter' describes for me the fight we all fight, whatever it is. It's the courage to get up every day and give it your best shot, no matter the odds. For me, I learned that strength from my mama, Gwen. She went toe to toe with breast cancer, and though she lost her battle, she fought every step of the way with grace, dignity, humor, and love. She's my prizefighter."
On the album, Yearwood recorded 'PrizeFighter' with Kelly Clarkson.
Lovely to see her back, though, as she's had an extended break from recording new music, with the last new music we saw from her back in 2008. Hopefully this new album will do as well as her last one. From what I've heard from it so far, it should.
Listen to Trisha Yearwood singing 'PrizeFighter' live on The Ellen Show below. And don't miss Ellen's cute story about Trisha's husband, the equally amazing Garth Brooks.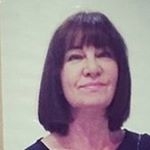 Latest posts by Michelle Topham
(see all)