Watch Aurora Sing 'Conqueror' on Conan, She's Wild, Wonderful and Perfect (Video)
Aurora's performance of 'Conqueror' on Conan last night is stunning
I first knew Norwegian singer Aurora was going to sing her new single 'Conqueror' live on Conan last night when she Instagrammed a photograph of herself yesterday at the studios with the caption,
"How I look after doing @teamcoco show. I lost my in ear while spinning around on stage, it survived. And I did not step on it. Which is nice."
So, I waited for her actual evening performance on Conan with quite a bit of excitement, as there is one big thing about Aurora. She never disappoints.
And, yep, on Conan, as always, Aurora was brilliant. Wild, wonderful and perfect, with that type of energy only Aurora seems to have — energy that feels like it comes from an otherworldly place, an energy so incredibly childlike — and a voice that was absolutely spot on.
So much so, quite a few commenters on the YouTube video of her performance were calling her out for lip syncing. She wasn't. She doesn't.
As for her inner ear mishap, you'll see it pop around the 3:20 mark. But it certainly didn't hinder her from dancing, or of having a fabulous time.
As for 'Conqueror' it's Aurora's latest single from her debut album All My Demons Greeting Me As a Friend.
An album which, so far, is on my list of Top 10 albums released this year as, whether it is a melancholic sad little number or a dramatic upbeat pop song, each track is magical and the whole album a stunning debut for someone still only 19 years old.
Watch Aurora sing her new single 'Conqueror' on Conan in the video below.
Honestly, I could watch her all day.
Update: Aurora's performance of 'Conqueror' on Conan was deleted from his YouTube channel sadly. But…what I think is an even more stunning performance Aurora gave on The Tonight Show is now up on her own YouTube channel. And if you like an energetic performance, good heavens, just watch that last minute in the video below. One of the best live performances on all of late night TV, and Aurora's first ever American television performance.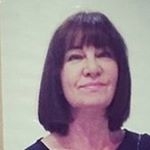 Latest posts by Michelle Topham
(see all)