If you're Russian, you can't share Putin as a gay clown images any more — it's illegal
The Late Show with Stephen Colbert tried to find out which Vladimir Putin as a gay clown image is it currently illegal to share in Russia last night. This after the Russian Justice Ministry ruled it was illegal to share a particular photograph showing the Russian president wearing make up, and suggesting he may be less straight than he would like us to believe.
After all, as they put it, suggesting "the supposed non-standard sexual orientation of the president of the Russian Federation," is just not on. Not in Russia, anyway.
The problem is, there seem to be quite a few photographs of the Russian president wearing make up or a clown costume going around. So which Putin as a gay clown image is it illegal to share in Russia?
Stephen Colbert took a look last night.
But, of course, he couldn't just leave it at looking at images. Oh no. Instead, he first pontificated on if only a 'gay' clown was unacceptable in Russia? Was 'straight clown' alright? Or what about 'bisexual clown'? And how could Vladimir Putin tell a gay clown from a straight clown?
As for the image that is now illegal to share in Russia, he asked, is it this one?
Or is it the one a Russian site thinks it may be? This photo of Vladimir Putin with Russian prime minister Dmitry Medvedev, with both men wearing striped sweaters, make up and holding a bouquet of daisies. Not gay at all.
Or, as Stephen Colbert asked, is it the gayest photo of Vladimir Putin you have ever seen? You know, the one that shows him as an absolute perfect person to head a gay pride parade just about anywhere in the world.
But, of course, Colbert could not just leave it at these three photographs. After all, as he put it, "Because this is America. For now. The Late Show has put together its own artistic interpretation of Vladimir Putin. Gay icon".
Watch it in the video below.
Personally, I like the image of a gay Vladimir Putin on a purple unicorn the best. An image that includes a suited Donald Trump clinging on behind him, and all on a backdrop of the rainbow colors of the LGBTI community.
And don't you have to wonder what is wrong with the Russian Justice Ministry? An organization of probably old folks, who just don't quite get that the minute they banned an image of Putin as a gay clown, that gave the entire world permission to make fun of him.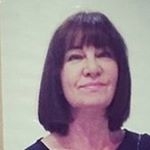 Latest posts by Michelle Topham
(see all)