One of the best things about the My Dress-Up Darling anime (aka Sono Bisque Doll wa Koi wo Suru) are the voice actors and, in particular, the person who voices main girl Marin Kitagawa.
An actress who surprisingly, considering the amazing job she did, doesn't have that much experience voice acting for anime.
Even more surprising, as playing the character of Marin Kitagawa was also her very first major role.
So who voices Marin Kitagawa in My Dress-Up Darling, and what other anime series has she acted in?
Who plays Marin in My Dress-Up Darling?
The name of the voice actress who plays Marin is Hina Suguta. (aka 直田 姫奈)
Suguta is currently almost 27-years-old (her birthday is on April 17th), and she is originally from Japan's Hyogo prefecture.
Interestingly, Suguta didn't start out her career as a voice actress, which is why she is slightly older than other actresses when they get their first main roles.
RELATED: Why Marin Kitagawa is everyone's favorite waifu…
And that's because she was initially a kindergarten teacher after graduating from university, but was then persuaded by friend Chiharu Hokaze (Reika in The Diary of Our Days) to pursue a career in voice acting, as Suguta had been interested in that career path previously.
In addition to Marin, the extremely talented actress has also played the following anime characters:
Haruka in Afterlost (aka Shoumetsu Toshi)
Sawaguchi in Kotaro Lives Alone
Tanaka-san in Rinshi!! Ekoda-chan
Maki Kusunoki in Eternity: Shinya no Nurekoi Channel
Touko Kirigaya in BanG Dream! Garupa☆Pico: Oomori
Hina Suguta has also done some voice work in video games, although most of her work continues to be in anime.
Of course, due to the success of My Dress-Up Darling, and in how well Suguta carried the show, chances are we will see her getting more main roles in anime in the future.
Fingers crossed.
RELATED: Who voices Gojou Wakana in My Dress-Up Darling? Surprisingly, another relative newcomer…
By the way, Hina Suguta has also lived in Hong Kong and Singapore, and speaks English.
Something she talks about with Shouya Ishige (who plays Gojou in My Dress-Up Darling) in the Sono Bisque Doll wa Koi o Suru Radio show below.
Cool, eh?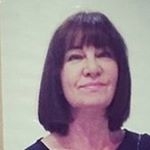 Latest posts by Michelle Topham
(see all)