I recently came across photographs of Canadian top model Winnnie Harlow and all I could think was "Oh my God……Wow". After all, it takes a helluva lot of courage and belief in yourself to do what Winnie Harlow has done – become a top model at the age of only 19 while suffering from vitiligo.
Vitiligo, just in case you're not aware, is a skin disease that affects millions of people around the world. What it does is stop the skin's natural pigment, melanin, from occurring, thus leaving vitiligo sufferers with a patchy almost-white skin color far different than the skin on the rest of the body.
Winnie Harlow (real name Chantelle Brown-Young) has suffered from vitiligo almost all of her life and, during her teenage years, life was tough. But, as she admitted to FabFem recently, many of the problems she experienced were as a result of 'trying to fit in' and being a 'mean girl' so people would accept her.
When they still didn't, she realized not only did she not like herself that way but she needed to learn how to love herself if she was ever going to be happy.
Love herself she did and, as she says, once she did "opportunities started to fall in my lap". She's now one of Canada's most sought after models, and making a name for herself in the international fashion world as well.
And, of course, Winnie Harlow is one of Instagram's rising stars, with almost 150,000 followers so far. Check her photographs out – they're gorgeous.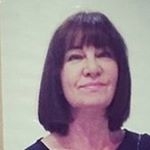 Latest posts by Michelle Topham
(see all)