There is a fabulous new interview in the current issue of New York magazine with actress Winona Ryder.
An interview in which she is completely honest about how she still finds it difficult to relate to how people see her, and to how journalists still write, or refuse to write, about her.
And the interview begins:
"I'm so sick of people shaming women for being sensitive or vulnerable. It's so bizarre to me." Winona Ryder is talking about the press and its tendency to pathologize female emotions, but she could also be talking about her lead role in Netflix's Stranger Things playing a frantic mother whose child has mysteriously disappeared.
And isn't that the truth? How women are supposed to be all things to all people all of the time. But primarily a pillar of strength. In every situation. And for every person involved in our lives.
As long as we don't show people how we really feel, and we aren't honest about our real emotions and how debilitating they can sometimes be to our own feelings of self-worth.
Because those, they are so scary to other people (mainly men, who have a much harder time figuring out what their real feelings even are than women do), that we are then shamed for feeling them.
Simply to make men feel better about themselves, and of their inability to handle such intense emotion.
But all of that isn't what this post is about. No more than it is an introduction to a beautiful interview with Winona Ryder that you really should read.
Instead, this post is about the series of photographs that were taken of Ryder to go along with the New York magazine cover story. Photographs that are primarily in black and white, and show what an incredibly beautiful woman Winona Ryder has grown into.
And one photograph that jumped out at me from my Instagram account, and immediately made me want to feature it as my Instagram Photo of the Day. Even before I knew who the woman in the photograph was.
Because, in it, Winona Ryder looks happy, completely present, confident and luxuriating in her surety of her own self-worth. And that? It's lovely.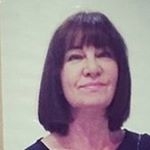 Latest posts by Michelle Topham
(see all)