While I am a big fan of shounen-ai and yaoi anime/manga, I'm not a big follower of yuri anime or manga.
That means the new announcement of a Yuri Is My Job! anime series this week didn't float my boat as much as another good yaoi anime would have.
Advertising
That being said, for yuri fans, Yuri Is My Job! (aka Watashi no Yuri wa Oshigoto Desu!) will be something to look forward to, as the long-running manga series by Miman is cute, hilarious and more than slightly evil.
The upcoming Yuri Is My Job! anime was announced today, along with the release of a cute key visual and the main voice actors.
They are Yui Ogura (Kokona Aoba in Encouragement of Climb) who will play Hime Shirasagi, and Sumire Uesaka (Aya Arisugawa in TONAKAWA: Over the Moon for You) who is voicing Mitsuki Ayanokōji.
Hijiri Sanpei (Wasteful Days of High School Girls) is directing the Yuri Is My Job! anime, with Taisuke Iwasaki as character designer.
Advertising
The English language version of Yuri Is My Job! manga is currently being published by Kodansha Comics, with eight volumes currently out.
Kodansha has this to say about the yuri manga:
The new, hilarious yuri comedy! Hime gets roped into working at a weird café where the waitresses pretend to be students at an all-girl boarding school. She's strangely taken with her partner Mitsuki, who's so kind to her in front of the customers.

There's just one problem … Mitsuki really can't stand her!

Hime is a picture-perfect high school princess—she's admired by all and never trips up! So when she accidentally injures a café manager named Mai, she's willing to cover some shifts to keep her facade intact. To Hime's surprise, the café is themed after a private school where the all-female staff always puts on their best act for their loyal customers.

However, under the guidance of the most graceful girl there, Hime can't help but blush and blunder! Beneath all the frills and laughter, Hime feels tension brewing as she finds out more about her new job and her budding feelings …
Watch the just released Yuri Is My Job! teaser trailer to check out how cute Mitsuki and Hime actually are, and be sure to notice mean Mitsuki in action.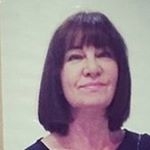 Latest posts by Michelle Topham
(see all)