South Korean streaming platform tvN has released two official Delightfully Deceitful posters in promotion for the upcoming crime drama starring Kim Dong Wook and Chun Woo Hee.
The two posters (see below) have Kim Dong Wook (who plays lawyer Han Moo Young in the drama) sitting at a desk covered in paperwork, while a gun and several fake photo IDs of a woman (Lee Ro Um) are laid out before him.
Han Moo Young appears thoughtful, as if he is figuring out a plan to catch a scam artist.
Although, when you read the ambiguous-sounding Korean text on the poster — "Every decision I made was because of Lee Ro Um" — his relationship with the scam artist could also be something else entirely.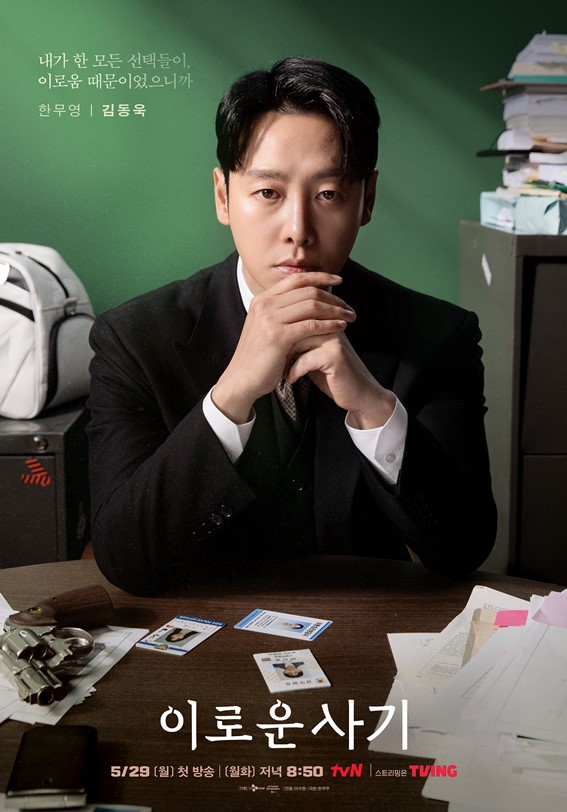 Meanwhile, Chun Woo Hee (who plays the highly successful scam artist Lee Ro Um) is seated at a computer dressed in a baggy, non-descript pant suit and holding a gun, while looking boldly at the camera  as if she doesn't have a care in the world.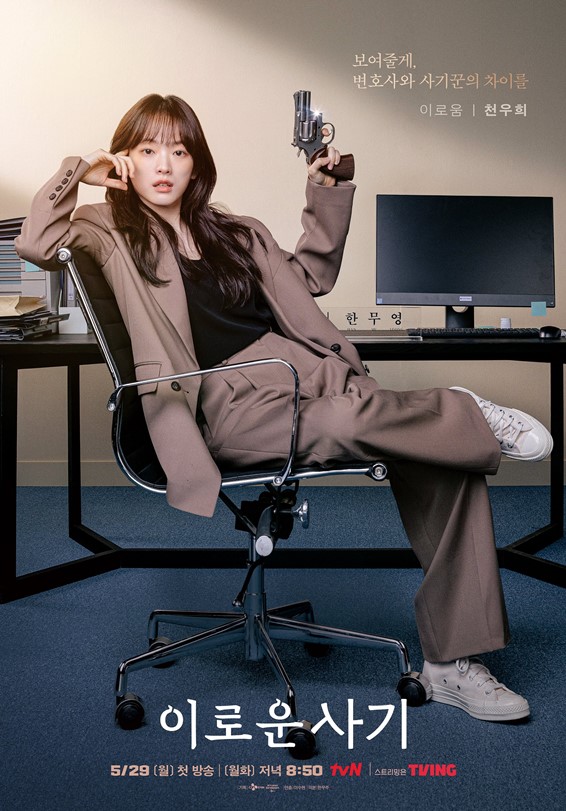 The caption on Lee Ro Um's Delightfully Deceitful poster reads "I'll show you the difference between a lawyer and a scam artist".
Lee Ro Um herself, though, looks more cheeky than threatening, meaning the upcoming Delightfully Deceitful is likely to be a helluva good time.
What is the K-drama Delightfully Deceitful about?
Delightfully Deceitful (titled 이로운 사기 in Korean) is being directed by Lee Soo Hyun (Find Me in Your Memory and Sh**ting Stars).
The Korean crime drama tells the story of scam artist (Lee Ro Um). A woman who lacks empathy so has been able to create an extremely successful career out of defrauding others.
At one stage in her career, however, Lee Ro Um meets empathetic and incredibly moral lawyer Han Moo Young, and the diametrically opposed pair soon find themselves teaming up to perpetrate a revenge that is important to both of them.
The drama will air on tvN beginning May 29th at  20:50 (KST). It will then continue airing every Monday and Tuesday evening at the same time throughout its 16-episode run.
International viewers in some regions will be able to stream Delightfully Deceitful via Netflix.
Enjoy the just-released Delightfully Deceitful posters above, and mark your calendars for May 29th as, come on, the adorable Kim Dong Wook and the fabulous Chun Woo Hee teaming up?
This one looks FABULOUS!!!
I am a Brit-American journalist, former radio DJ at 97X WOXY, and Founder/CEO of Leo Sigh. I'm also obsessed with music, anime, manga, and K-dramas. Help!