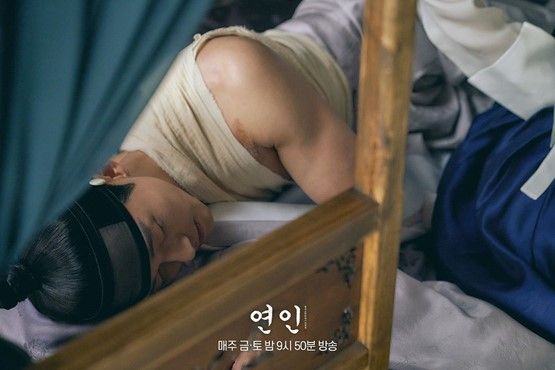 The historical K-drama My Dearest, Episode 15 aired in South Korea last night with Nielsen Korea reporting the show's ratings held steady compared to its previous episode.
Those ratings for My Dearest, Episode 15 show the latest episode in Part 2 of the MBC drama grabbed 11.8 percent of the audience share nationwide on Friday night, which is a very slight increase over Episode 14's rating of 11.7 percent.
That rating also placed the popular K-drama in first place on Korean TV for the day.
As far as ratings from audiences in Seoul are concerned, My Dearest earned 11.2 percent of the audience in the country's capital, which again is a slight increase over the drama's previous episode's rating of 10.9 percent.
That also moved My Dearest from last week's 2nd place into 1st place for the day.
My Dearest's highest rating still to come?
Even with these high ratings, however, the second part of the MBC drama has still to hit the highest ever rating it earned for Part 1's Episode 10 (12.2 percent)
With five more episodes to air, however, and with viewers still seemingly obsessed with the relationship between Lee Jang Hyun (played by Namkoong Min) and Yoo Gil Chae (Ahn Eun Jin), my guess is we still have not seen the drama's highest ever rating.
A rating, I predict, that is likely to occur in the final three episodes, as it is finally revealed where this tempestuous and often tragic relationship ends up.
Let's just hope it is a satisfying ending for them, and for us, as millions of K-drama fans will be devastated if it is not.
International viewers of My Dearest, Part 2
Meanwhile, many international viewers of My Dearest, Part 2 are still enjoying the K-drama immensely.
On My Drama List, a site that is notorious for its users rating dramas quite low, My Dearest, Part 2 is earning a very high 8.5 out of 10 and with users' comments about the latest episode overwhelmingly positive.
On Viki, where many international viewers are watching the historical drama, it is garnering an astounding 9.7 out of 10.
And, over on IMDB where My Dearest initially started out with a much lower rating, Part 1 and Part 2 of the K-drama are now earning a combined 9 out of 10 stars.
The next episode of My Dearest, which stars Namkoong Min, Ahn Eun Jin, Lee Hak Joo, and Lee Da In, will air on MBC in South Korea tonight at 21:50 (KST), with Viki streaming it for their users soon after.
I am a Brit-American journalist, former radio DJ at 97X WOXY, and Founder/CEO of Leo Sigh. I'm also obsessed with music, anime, manga, and K-dramas. Help!