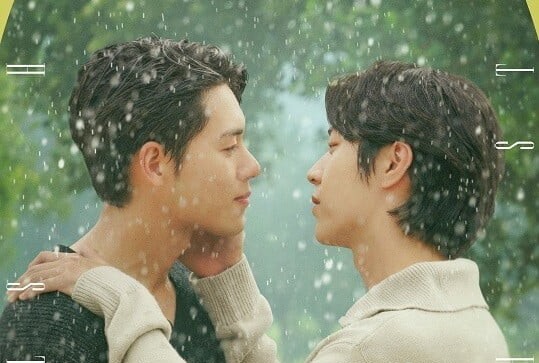 As a certified Fujoshi or Boys' Love fan, you can guarantee I follow news about every upcoming Boys' Love drama coming out of South Korea or Japan.
Both countries that seem to do Boys' Love romance much better than most western countries have done in the past.
That is why I am excited to see a new poster release for the latest in the Korean stable of Boys' Love dramas — Individual Circumstances, an upcoming drama starring Han Jung Wan and Kang Jun Kyu.
The just-released Individual Circumstances poster has movie director Ha Yeon Woo (played by Han Jung Wan) and writer Sung Woo Jae (Kang Jun Kyu aka Jun.Q) gazing lovingly at each other as soft rain seems to be falling around them.
Yep, this BL drama looks as though it is likely to pile on the goosebumps when it comes to romantic gazes between two gorgeous men, just like some of my past favorites. (See Old-Fashion Cupcake and Cherry Magic)
Individual Circumstances is an interesting one too as, not only is the plot about a formerly successful movie director now in a career slump and a writer who deals with the heartbreak of his first love by writing web novels about it, it also features two actors who are relatively new at this.
In 24-year-old Han Jung Wan's case, Individual Circumstances will be his drama debut, after an already successful career as a model.
On the other hand, while Kang Jun Kyu has had minor roles in a couple of dramas in the last couple of years, the role of Sung Woo Jae will only be his second main role after starring in the mini-drama The Witch's Eye late last year.
A short series that was largely ignored by most K-drama fans anyway.
RELATED: Why is the Boys' Love genre so massively popular in manga nowadays?
To see both men get a chance to show off their drama chops then is quite exciting, eh?
Enjoy the gorgeous Individual Circumstances poster above and, if you are as big of a BL fan as I am, mark your calendars for January 19th.
That is when the drama will premiere on Viki — a streaming service, by the way, that has a substantial number of other excellent Boys' Love dramas from various Asian countries you may want to check out.
I am a Brit-American journalist, former radio DJ at 97X WOXY, and Founder/CEO of Leo Sigh. I'm also obsessed with music, anime, manga, and K-dramas. Help!