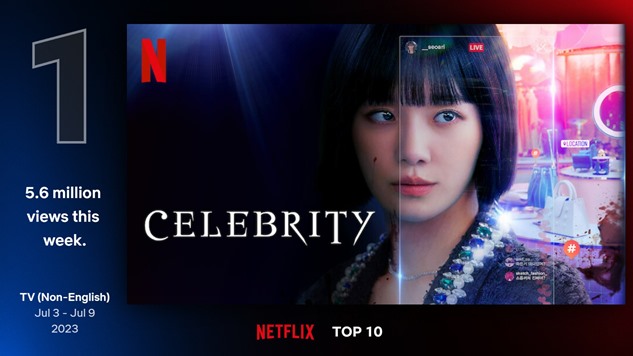 The influencer-focused K-drama Celebrity grabbing the attention of millions of viewers
Now I have to admit I did not think the new K-drama Celebrity, which premiered on Netflix on June 30th, would be worth watching.
Sure, the drama is getting excellent reviews as well as features a superb ensemble cast — Park Gyu-young, Kang Min-hyuk, Lee Chung-ah, Lee Dong-gun and Jun Hyo-seong — but to say that I despise social media, or that I think so-called "influencers" are vacuous and a waste of my time, would be an understatement.
That being said, I watched the first 15 minutes of Episode 1 so I could easily dismiss it as "stupid". And then I got hooked.
Apparently much of the Netflix viewership had the same experience, as Celebrity is currently the #1 Most-Watched Non-English TV Show on the streaming platform for the week of July 3rd through July 9th.
According to the official Netflix data on the show, the Korean drama has been watched for almost 50 million hours since its release on June 3oth.
Not bad for a show with only 12 episodes, and where each episode is only 45 minutes long.
Then again, Celebrity is fast-paced, very exciting, beautifully acted by everyone in the ensemble cast, and a heckuva fun show to watch.
Celebrity has also beaten out other K-dramas King the Land, See You In My 19th Life, Bloodhounds  and Doom At Your Service for the #1 spot on the Top 10 list this week.
Just in case you haven't started watching it (and you should), check out the official Celebrity trailer below. All eight episodes are now available on Netflix.
But be warned. Once you start watching Celebrity, you won't be able to stop.
I am a Brit-American journalist, former radio DJ at 97X WOXY, and Founder/CEO of Leo Sigh. I'm also obsessed with music, anime, manga, and K-dramas. Help!