Kill Boksoon trailer shows why Jeon Do Yeon is the world's best contract killer
If you love Korean actress Jeon Do Yeon in her role as Nam Haeng Seon in the ongoing K-drama Crash Course in Romance, it looks like you will probably love her in her upcoming Netflix film Kill Boksoon.
At least if you like a kickass female character who will murder you rather than look at you.
In Kill Boksoon, Jeon Do Yeon plays the role of single mother Gil Bok Soon. A contract killer who has a 100 percent success rate in the contracts she accepts, but not so much as a mother.
In other words, Gil Bok Soon is amazing at her job, it is parenting a teenager daughter she finds challenging.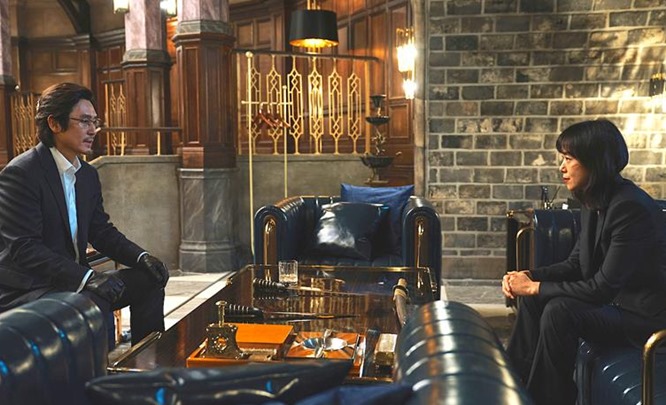 Kill Boksoon trailer shows some of the film's fast-paced action scenes
The recently released Kill Boksoon trailer begins with Bok Soon's daughter Gil Jae Yeong (played by Kim Shi Ah) asking a man on the phone who works with her mother "What is my mom like when she's at work?"
It ends with Jeon Do Yeon proving once and for all she is as kickass in an action thriller as anyone 30 years younger than the now 50-year-old actress, and just as able to carry out those fast-paced action scenes.
To show just how seriously the actress took her role as well, Jeon Do Yeon was injured on the movie's set back in April, 2022, but after getting treatment at the hospital, she came right back onto the set and carried on where she left off.
Now that is a kickass woman, eh?
Along with Jeon Do Yeon, Kill Boksoon stars Sol Kyung Gu, Esom, Koo Kyo Hwan, and Kim Sung Oh. The film is being directed by Byun Sung Hyun (The Merciless).
The Korean film got its premiere at the 73rd Berlin International Film Festival last Saturday.
Watch the latest Kill Boksoon trailer below. The film itself is scheduled to release on Netflix on March 31st.
RELATED: Korean actress Jeon Do Yeon considering main role in upcoming film Revolver
I am a Brit-American journalist, former radio DJ at 97X WOXY, and Founder/CEO of Leo Sigh. I'm also obsessed with music, anime, manga, and K-dramas. Help!