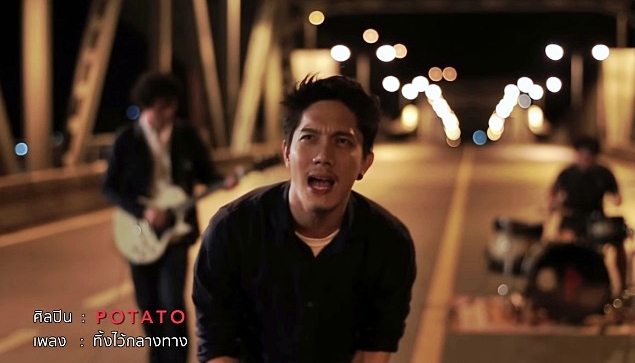 Thai rock band Potato has a new single out today. Called 'ทิ้งไว้กลางทาง' in Thai, in English that translates to 'Left Behind', and it's an incredibly pretty song. It also has a video just released on YouTube, with almost 3 million hits since it was uploaded yesterday. So, yes, it's pretty much viral at this point.
And that's why it always amazes me Thai songs are not particularly popular outside Thailand as many of them are incredibly beautiful, whether you understand the language or not, and Thai artists get enormous numbers of hits on video sites like YouTube.
[AdSense-B]
As for Potato, they are an amazing band and are hugely popular in Thailand. They have been around for years, longer even than I have been living in Bangkok, but sadly briefly broke up after their original lead singer Peechanit Oan-Aari (Pee) died in 2002.
Back together since 2003, though, and with their current lead singer Patchai "Pup" Pukdesusook, Potato now has 10 studio albums out, and another one coming out later on this year. Which is where Potato's latest single 'ทิ้งไว้กลางทาง' is from.
As for Potato's 'ทิ้งไว้กลางทาง', it is on Genie Records and available on iTunes as of today.
Or you can just watch the track's music video below. It's absolutely gorgeous.
I am a Brit-American journalist, former radio DJ at 97X WOXY, and Founder/CEO of Leo Sigh. I'm also obsessed with music, anime, manga, and K-dramas. Help!