I have one projection for music in 2021 so far.
Japanese music duo YOASOBI's 'Kaibutsu' (in English Monster) will be a huge hit.
But, just in case you haven't heard it yet, here's what you need to know — 'Kaibutsu' is the BEASTARS Season 2 opening theme song, its music video has just premiered on YouTube less than four hours ago, and it already has almost half a million views.
Not surprisingly really though, as YOASOBI's 'Kaibutsu' is upbeat, fun, fast-paced, with an incredibly catchy chorus, and features vocalist Ikura's awesome vocals.
It also comes with an utterly gorgeous animated music video. One in which so much is going on, you really do have to watch it two or three times to make sure you don't miss anything.
The music video for 'Kaibutsu' was directed by Rina Mitsuzumi, with 2D animation by Kaori Onishi and motion graphics by Jun Matsuda and Cafuu.
Paru Itagaki, manga artist of the BEASTARS manga series, also helped create the video.
As for YOASOBI, they are a Japanese music duo comprising vocaloid music producer Ayase and vocalist Ikura.
If they sound familiar, you may remember the pair from their similarly catchy and previously massive hit — 'Yoru ni Kakeru' (Racing Into the Night).
That song not only has almost 144 million views on YouTube, it also won the duo the Song of the Year award at the MTV Video Music Awards Japan, and the Hot 100 of the Year award at the Billboard Japan Music Awards last year.
I predict YOASOBI's Kaibutsu' will be equally successful. It is really that good.
The second season of the popular BEASTARS anime premiered in Japan on January 5th on Netflix. We can except it to hit western Netflix sometime in July this year.
Yep, we are sadly that far behind.
Listen to YOASOBI's 'Kaibutsu' in the song's official music video below. A video, by the way, that is likely to be as successful as the song as, man, that thing is stunning.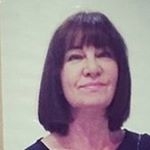 Latest posts by Michelle Topham
(see all)