Conchita Wurst appeared on 'Spiel für dein Land' last night, a quiz show where celebrities from three countries (Austria, Germany and Switzerland) compete against each other for a cash prize.
And no, the lovely Conchita was not one of the celebrities answering questions, but instead the guest star for a section of the show in which songs were sung, and contestants had to guess the missing lyrics.
Conchita's part consisted of her singing a condensed version of 'You Are Unstoppable', then short sections of three German-language songs, one famous song from each of the three countries taking part — "Liebe ohne Leiden" (Austria — originally sung by Udo Jürgens) , "Atemlos durch die Nacht'' (Germany — Helene Fischer's hit single, and the most successful song in German history) and "Blue Bayou" (the Roy Orbison classic, but re-released in German to great success by Swiss singer Paola Felix).
And, while I found Conchita on 'Spiel für dein Land' as lovely as I always do, there were five things in particular I enjoyed.
Conchita in impossibly high heels hovering between glory and a bump on the head
Now, I don't know what it is with TV set designers, but so many of them are fixated on steep staircases. You know, the ones where you're convinced your favorite artist is going to go arse over tit and end up on his or her head at the bottom.
And yep, the set designer for 'Spiel für dein Land' is obviously another of those sadistic types, because the staircase last night was not only ridiculously double-curved but also with shallow steps and steep.
Which is where we first come across the lovely Conchita, perched halfway up one of the curves waiting to sing. Balancing on the most ridiculously high stilettos on just one shallow step, and looking so delicate that a stiff breeze could probably blow her over.
But watch her closely. Because, even if she hates heights (here's her funny story about a height mishap), and she is standing on what amounts to two chopsticks, she is absolutely as solid as a rock. Not one waver at all as she sings. Lovely that.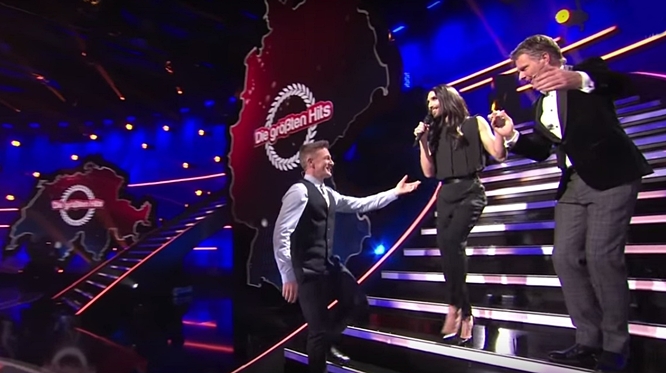 Conchita the delicate flower
Now, it floats my boat beyond belief when Conchita Wurst gets treated like the lady that she is. You know, when strong, burly guys go rushing up to grab her hand and help her down from somewhere. Because she absolutely loves it, and I love watching her.
Which was just one of the many things fabulous about Conchita Wurst on 'Spiel für dein Land' last night. The fact that, as she finished singing, both Jörg Pilawa, the show's host, and Andi Knoll, the Austrian TV presenter and half of last night's Austrian team, went rushing across the stage to grab her by both hands and help her alight from the steps and safely onto solid ground.
Like a delicate little flower, who grinned widely the whole time she was in their grasp.
She is so happy about her upcoming 'Conchita Live mit band' tour
Not only is it fabulous that Conchita's upcoming Austria and Germany tour is going so well, (sold out or close to sold out in almost every city she's singing in), what's even better is how delighted she is about this tour. Just watch how she talks about it on 'Spiel für dein Land', (around 3.55 in the video below) and how happy she is.
And, when I see her like that, I'm always reminded of how far she's come, how hard she's worked to get where she is and how, when she (he) was a child, the only thing he ever wanted was to be this famous, with this kind of fabulous opportunity, and this loved.
So to see her now, about to set off on her first ever tour, just makes me incredibly happy for her.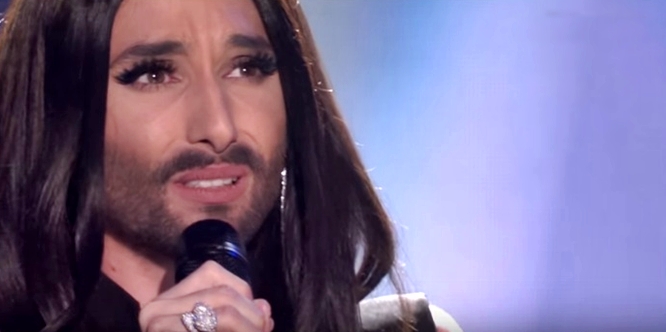 Conchita singing in German
Of course, the big thing last night was that Conchita was singing in German for pretty much the first time. Particularly as she has said in the past she doesn't really enjoy singing in German, and finds it more difficult than in English.
For me, I don't like any of the songs nor do I think they suit her voice, but she did show how versatile she can be by nicely adapting all three to her particular way of singing.
But what was most interesting to see was how much emotion she puts into even just a verse and a chorus of a song. Because that's one of the many wonderful things about Conchita Wurst. No matter what she does, she never does a half-job, but always does it to the absolute best of her ability.
Conchita the introvert
One of the many things I find fascinating about Conchita Wurst is she is an introvert. If you watch her on a talk show, or get to sit down and talk with her as I did, she's very outgoing and incredibly self-confident, so you would never guess she's actually quite shy.
That sometimes comes out, though, in certain moments on stage, and it's usually when it's other than just one person she has to relate to.
Like here, when she walks back to where the contestants are sitting to help go over their answers to her songs quiz, and she is standing with Jörg Pilawa and the very lovely Paola Felix. And if you look closely, her whole demeanor changes from just moments before when she is 'mega diva' talking about her tour to now where she is quieter, a little more shy and standing slightly more stepped back than the other two.
And it's something I really like about her. Because she is not pushy or aggressive, or one of those annoying women that is always trying to muscle in on someone else's limelight. Instead, she always waits to be spoken to, or invited to speak and always defers to everyone else first.
It's sweet, and it's lovely and, to me, it just makes her even more adorable.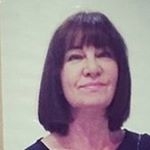 Latest posts by Michelle Topham
(see all)