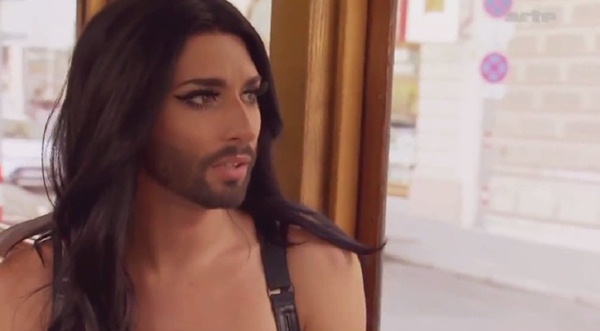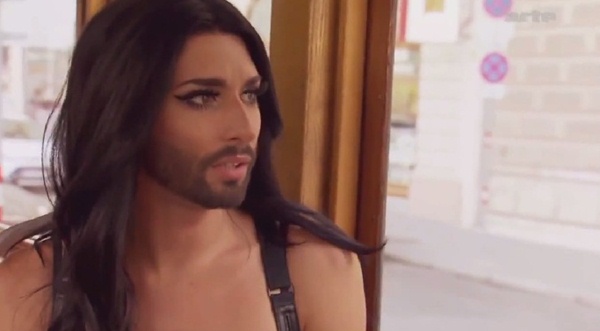 A couple of preview videos popped up this week for an Arte documentary out of Vienna. Called 'A Coeur de la Nuit' (In the Middle of the Night), it features Conchita Wurst and French designer Jean Paul Gaultier spending a day and an evening in Vienna together, with Conchita playing host.
The pair visit the Sisi Museum, a design school, grab a beer and a snack at a hot dog stand, and spend time on Vienna's iconic tram system among other things.
And, yes, I watched both videos (now merged into one video below) and, as usual when it comes to Conchita Wurst, my brain was working overtime (sorry, Conchita, this is just the way my head works). And so now I have to say:
I wonder if she has any idea just how much Jean Paul Gaultier likes her? Because he does. When he's talking to her he has that trying-not-to-smile-too-much-because-it's-a-dead-giveaway look on his face and it really is quite sweet. Next time she meets him, she should look for it, because I'd say he's quite enamoured.
It's always interesting to hear her talk about her beard, and the stages she went through to get to the image she currently has today.
What's even more interesting, as weird as it sounds, is the beard gives her a vulnerability and so, consequently, an appeal she definitely didn't have without it. And you wouldn't think it would work that way at all.
In fact, the girl she used to be without the beard — astoundingly stunningly gorgeously beautiful but, frankly, someone I would be terrified to talk to. (And no, Conchita, I don't go looking for this stuff, people just seem to think I want to see it).
As for 'A Coeur de la Nuit', it airs in Austria on November 2nd. Me? I'm looking forward to it.
I am a Brit-American journalist, former radio DJ at 97X WOXY, and Founder/CEO of Leo Sigh. I'm also obsessed with music, anime, manga, and K-dramas. Help!