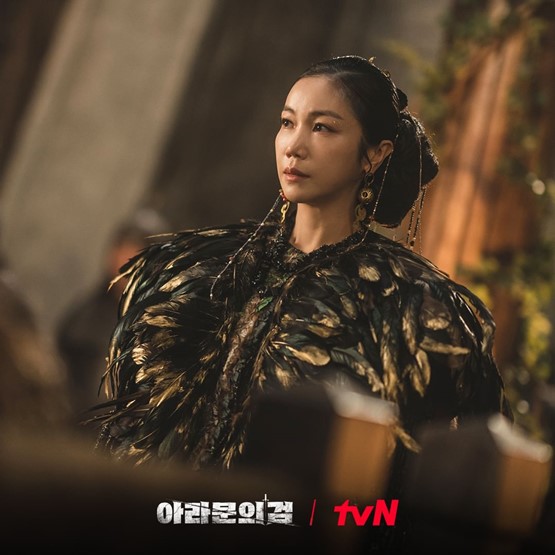 Arthdal Chronicles 2, Episodes 7 and 8 finally return to tvN after being side-lined by Asian Games
Episodes 7 and 8 of Arthdal Chronicles 2 finally aired in South Korea last night, after being postponed several times in place of the now-ended Asian Games, to rising ratings.
Cast and crew must also be thrilled with last night's ratings for the tvN drama as, after falling to its lowest rating for Episode 6 which aired directly after Episode 5 on a Saturday night, Arthdal Chronicles 2, Episodes 7 and 8 saw much higher ratings last night.
Unfortunately for the fantasy drama, Episode 8 still fared worse than Episode 7.
That's because, yet again, tvN decided to air both episodes back-to-back, with Episode 8 not beginning to air until 22:50 p.m. in South Korea.
A time that is apparently too late for many Koreans, who have to head off to work on a Monday morning.
That being said, both episodes performed well considering the poor drama's air schedule has been all over the place since the Asian Games started in September and Arthdal Chronicles 2 was side-lined.
Arthdal Chronicles 2, Episodes 7 and 8 ratings
According to Nielsen Korea, Arthdal Chronicles 2, Episode 7 earned 3.52 percent nationwide last night, which is a substantial increase from its previous episode's 2.19 percent.
Episode 8's rating was lower at 3.02 percent, but still decent considering it didn't kick off until almost 11 p.m.
Those ratings put Arthdal Chronicles 2, Episode 7 in first place for the day on cable TV, and Episode 8 in third place nationwide.
In Seoul, the tvN drama performed even better, earning 3.64 percent for Episode 7 and a slightly lower 3.25 percent for Episode 8.
Those ratings landed the drama in second and third place in Seoul, with an Arthdal Chronicles 2 special, which aired on tvN earlier in the evening, in first place. (A 1-2-3 punch, eh?)
With only four more episodes to air then, let's see how next week's episodes fare.
Episodes 9 and 10 will air on tvN on Saturday the 14th and Sunday the 15th October at the drama's regular time of 21:20 (KST).
Fingers crossed that the last four episodes of this excellent fantasy drama earn the superb ratings it has deserved throughout its run, eh?
I am a Brit-American journalist, former radio DJ at 97X WOXY, and Founder/CEO of Leo Sigh. I'm also obsessed with music, anime, manga, and K-dramas. Help!