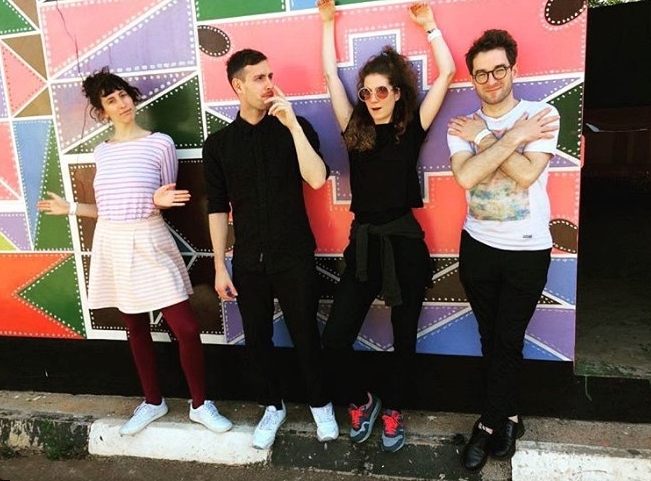 Special Note: This is a long article, with video embeds and photographs. Please don't miss any of it. Kids N Cats are brilliant, and you really should see all they have to offer.
I met Jeanne Nickels and Marten Kaffke, two members of the Vienna-based experimental pop band Kids N Cats, at Burggasse 24 last month. A hip cafe/retro clothing store in Vienna's seventh district.
I had seen the band play at Gürtel Nightwalk at the end of August, and was not only blown away by their live performance — full of energy, wild gyrations and cool, quirky electro pop music — I was also interested to find out why they were currently working on a second album that has 11 tracks from 11 countries.
Because this new album (the band's second) includes music they have written as a result of a world tour last year. A tour that took them to countries like Brazil, Taiwan, Japan and Swaziland. I was intrigued to find out how does an Austrian band perform in all those places in just a few months?
Related: The Kids N Cats song 'Air' is my current obsession
Of course, as interviews always go, I start with the band member's background as it can tell you quite a lot about who they are, why they do what they do and why their music sounds like it does.
Jeanne: My father is French, my mother is Austrian. I lived in a few places because my father worked for the UN, and so we were always traveling and living in different places.
Marten: I'm German, but I've lived here 12 years.
Advertising
Leo Sigh (LS): Why did you come?
Marten: Because of a girl.
LS: And did that work out for you? (Because many of us have moved countries because of a girl/boy and it works out for some, but not for others).
Marten: It worked out for one and a half years. She's still one of my best friends. I also got to know Jeanne because of her. They are best friends.
Jeanne: She is actually the one that shot a lot of videos for us. Daliah Spiegel (she directed the fabulous Kids N Cats music video below). She's a cool, crazy artist who also studied medicine. She lives in Shanghai right now, and has a restaurant there.
LS: Do you support yourself completely with your music, or do you do other jobs when you're not creating music?
Jeanne: No, we do other jobs. It's impossible not to if you're not really big. I'm a translator, but I just speak three languages – German, English and French (I love how Austrians always say they 'just' speak so many languages, while we native English speakers often seem to struggle with just one extra one!), and I'm learning Spanish as well, but I'm not so good at it yet.
I also do a podcast on Austrian women that I really like – strong, powerful women, because I want to inspire other women and girls.
Marten: I did business stuff as I have a Masters in Economics. But last year I quit my job to concentrate on this music project. And I think we will focus on this second album a lot next year, and see what happens.
Jeanne: We want to get really famous. That's our goal.
LS: Why not! If you're going to do it, you might as well be famous, right?
Jeanne: Exactly. And it's not about the money. It's about you get the money, and you can do what you want. People have to stop shaming themselves about money. If you want money, it shouldn't be a shameful thing. It can be a good thing.
Marten: I really want to have the money so I have the time to concentrate on this. To make the music we want to make.
LS: Do you get a lot of support in Austria, and do you play here a lot?
Marten: We get great support! But I think in Austria because it's so small, you can't play in the same town many times because the people you attract they get bored if they see you always playing the same program. So we play in Vienna about three or four times a year. I think the payment here is quite good, though. In comparison to Germany, for example. It's much better.
When we were on our world tour, though, we were playing around seven times a month. Hopefully, next year with the new album, we'll be playing a lot.
There is also a lot of support from the Austrian government and from cities.
LS: It's interesting you say that as I get mixed comments when I talk to Austrian bands about that. Some say the support is good and others say it's not.
Jeanne: Really? Oh we have had quite a few things that went really well. We have good support. We have the NASOM for instance, which we won. That supports you and gives you a legitimacy of your musical quality. (NASOM stands for New Austrian Sound of Music, and is a governmental program that was instituted by the Federal Ministry for Europe, Integration and Foreign (BMEIA). It gives Austrian musicians support for performances abroad).
LS: So you get to perform in different countries?
Jeanne: Exactly. We did a world tour partly because of that. We just came back in March. We went to 11 countries, which is where the 11 Countries, 11 Songs came from – kind of.
Marten: It was our own project, so we tried to get as much support as we could for it.
LS: So you arrange the concerts, and then you contact the embassies and say "We're coming, can we perform somewhere?"
Jeanne: Exactly. We worked for one year to organize everything and to fund it, as we paid for most of it ourselves.
Marten: We saved money beforehand, and then we spent a lot of money (and they laughed).
LS: Where did you go?
Jeanne: We went to Israel first, then to France and Germany, came back to Austria and then went away for seven months on the road. We went to Japan, China, Taiwan, then Australia, Mexico, Brazil and Swaziland.
LS: Swaziland was interesting to me because it's one of those countries most bands will never go to. Why did you pick Swaziland?
Marten: It picked us! We received an email at the end of last year saying "Do you want to play in Swaziland?" It looked like a joke because it was a short email, "Do you want to play here?" But I looked up the festival and it looked legit.
Jeanne: It was a crazy, cool festival with great artists. It's one of the biggest African festivals.
LS: Was it mostly African artists?
Jeanne: Yes, mostly African. And so cool.
Marten: They had artists from all African countries. From Ghana, South Africa, Nigeria….
LS: They were all artists we Europeans wouldn't normally hear, just because they're never promoted outside Africa?
Marten: Yes, and they were really good. We saw so many great artists. Some we already knew, like Hugh Masekela, he was playing.
Jeanne: We wanted to go to Senegal actually, because I lived there for two years and have a network and a few friends there already. I wanted Marten to see it as well, because it's such a beautiful country. A peaceful country, which is rare in Africa right now. But then Swaziland came along.
LS: So how did Kids N Cats get together to start with? You knew Marten's ex-girlfriend?
Marten: It was just by chance that we talked about music. I was making hardcore and punk rock music when I was a teenager. Played a bit of guitar, but not well, like only power chords. Then Jeanne said she loved to sing, so we just said "Let's try".
We tried a bit, but the first time it went not very good. It was really weird. I don't know why we even tried a second time, but we did, and we immediately wrote a whole song. And it was good. This was with the band we had before – Friedrich und Ludwig – it was more like chanson, acoustic-like – and this first song, I still think it's the best song from all the songs we've written.
Jeanne: Marten and me, we've been together for about seven or eight years but we started out with a band called Friedrich und Ludwig – which is why we are now called Kids N Cats. Because that was such an unpronounceable name (and she laughed). You should hear how they tried to pronounce it in France!
For the next band we decided we needed a simple name. A name that even kids can say.
Marten: Now, of course, we still have problems with the name, as everyone writes it in a different way. Kats instead of Cats, and I don't know why?
LS: Why did you choose that name. Just because it was simple?
Jeanne: Yes, because it was simple and because we were in Israel and there were many cats on the streets. And kids and cats are both really nice and really weird.
LS: So you both have been the core of the band, and then you've had other musicians come and go?
Marten: When we started Kids N Cats, we were three people. The third person was like us, a core person. We wrote the songs, the three of us. Then we decided to add a drummer. That's Maximilian (Atteneder). But the other person eventually left, as we ended up in what was technically a long-distance relationship.
LS: Bands are difficult to keep together anyway, without being long-distance.
Jeanne: Yes, they are. It's a relationship, so you have to have the same vision. I think that's the most important thing. But now it's great. We have Judith (Filimonova), and she's awesome. She's a bass player, and she's absolutely awesome.
LS: What's the music scene like in Vienna as far as knowing other musicians?
Marten: The scene is really good. If you're making music for some years, you will get to know a lot of bands here. Even the bigger bands you somehow get to know. It's a very friendly scene.
LS: What about radio stations? Where is your music played?
Marten: FM4 is so supportive. I think there are not many countries that have such a great radio station. They are so supportive to young bands. And the feeling that your song is on the radio. It's a really special thing.
LS: When does your second album come out? (They have one album and one EP already released)
Jeanne: February or March next year. Then we're going to do a few tours – probably one in Japan and one in Korea too. We're probably putting it out on our own label.
LS: Are you recording in Vienna?
Marten: We recorded actually in different countries.
Jeanne: But then we recorded some of the things here, and we have a producer in Germany. So it's kind of a mixed album.
Marten: We have a lot of collaborations on this album. For each track, it's 11 tracks, for each track we have one country from the travels that inspired us. In many countries, we did a collaboration too. So we have a local artist from that country on that song. We have a Portuguese singer on the Brazilian track, and on the Japanese track we have a Japanese singer.
We don't have a collaboration with a singer from Swaziland because we weren't there long enough to find one, but we got inspired by the country and with the stories from there, which we put in a song – both the lyrics and the music.
It was also really nice with these collaborations. Because of them, people invited us into the culture a lot more. For example, in Japan, the band we collaborated with was really welcoming and showing us everything – like how to go to the onsen (the Japanese hot springs) the right way. How to rub yourself before you get into the pool, and all of that.
We even saw a little bit of anger and like fighting of Japanese people, even though you normally don't see that in that culture.
We had the best concerts in Japan too. The audiences were amazing. Open and interested and, like, big eyes…It was really nice.
LS: So you are doing quite well with your music then?
Jeanne: Ah yes. Well,  we have our own label…
Marten: Yeah, and up until now, everything kind of pays for itself. We don't have to put in a lot of money. I think the videos and the first album, I think everything paid for itself.
LS: And are you happy living in Vienna? Or would you live somewhere else?
Jeanne: I think Vienna is the best place. I'm so happy to live here. Every single day I tell myself, "It's so good to live here". Every day. So no, I wouldn't want to live anywhere else. Not now at least. Maybe in two or three years, but now having been in so many places and every place was really great in its own way but, still, I'm so happy here.
It's so good as a woman, you can feel safe. You can do whatever you want and never have any problems, and that's one of the most important criteria for me.
The subject of performances came up, and Jeanne admitted they had recently performed in front of an audience of diplomats and politicians, including Sebastian Kurz — Austria's Minister for Foreign Affairs, and who is also currently running to become Chancellor.
Jeanne: We just played in front of him a week ago. A concert. And I was like crawling on the floor, and being outrageous on stage. We were playing in front of ambassadors, around 340 male ambassadors and about 60 women or so.
We were invited from the Foreign Ministry as part of NASOM. It was really great to play there, because we got to meet so many ambassadors.
LS: That's an interesting crowd. What was the reaction? (Because so much of what Kids N Cats does is unique, very artistic and to many conservatives, I'm sure, could be classified as 'weird' or 'strange').
Marten: Ummmm, I think many were shocked, because it was noon and before us there were just presentations of really serious stuff. We performed one song and it was really like…
Jeanne: In your face.
Marten: Yeah, so we played the one song and then we disappeared. And everyone was like "What happened?" (and he laughed). We also had crazy outfits all in black with white paint on the face and mono eyebrows (see photo below).
Jeanne: But apparently it was very bi-polar. Because there was the one side that loved it, and the other side who didn't like it at all. I guess that's okay (and she laughed again).
LS: But that's good. At least you're getting a reaction. It's always better to get a strong reaction, one way or the other, than a really bland reaction.
Jeanne: Well, I think they won't forget us.
LS: I think what you do on stage is phenomenal. The energy you have and how you express yourself, and your music. It's beautifully done. What do you classify yourself as when it comes to a musical genre, though? Do you pick a genre or do you prefer not to be classified?
Marten: I would say experimental pop music.
Jeanne: I like to say super pop. I like that word super also. But yeah, we're doing electronic pop music that's experimental.
LS: When is your next performance?
Marten: We don't have anything planned right now because we are concentrating on the album. Although we play at the information event for NASOM on November 9th. I think that will be a nice event because there will be some other really great bands playing there too.
Jeanne: We are also working on new music and new stuff for the album. We really want to have a great great new show. Crazy outfits and even more visual than it has been.
Marten: We will also have a new video releasing probably in November. We shot it in Shanghai and it captures some of the culture there.  We even had a drone, even in the temple, so it's really cool.
Things To Know About Kids N Cats
Kids N Cats is Jeanne Nickels, Marten Kaffke, Maximilian Atteneder and Judith Filimonova.
I was fascinated by them from the minute I came across them, not only because of their fabulously energetic and musically rich and interesting live performance, but also because they put out some of the most professionally produced, coolest, strangest, most beautifully bizarre and fabulously artistic music videos I have seen. Not only as far as Austrian artists go, but as far as artists in general.
Kids N Cats new album will be released some time in early 2018. Keep checking back here at Leo Sigh, as I will have a promotion piece published on the site when it does.
Meanwhile, do watch all the music videos dotted throughout this interview. The band is fascinatingly unique, their music is gorgeous and the visuals they use on every video are stunning.
They are also interested in and influenced by many countries and many cultures, which gives both them and their music such a wonderful richness and diversity.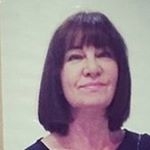 Latest posts by Michelle Topham
(see all)