I saw Austrian folk pop singer-songwriter Ella Deer perform live well over a year ago when she played a gig at Vienna's Kramladen club along with two friends (a double bassist and a singer), and two other favorite Vienna-based musicians of mine — Tall William and Mark Peters.
If I remember correctly, I went up to her afterwards to tell her how much I enjoyed her performance, and to ask if she was playing anywhere else in Vienna in coming months.
At the time, she wasn't.
Ella Deer then got lost somewhere in my memory banks until this week when her record label, Vienna-based Audio Heart Records, sent me a copy of her four-track debut EP — Liquid Sun — and asked if I would be interested in reviewing it.
Remembering I had enjoyed Ella's music, I grabbed at the opportunity. Listening to it later, I was glad I had.
Related: Tall William's new EP When The War Comes By could be a problem title — but he's fine with that
Because not only did I immediately remember one of the songs from when I heard her sing it live (as a writer, I loved the lyrics so much), I immediately remembered what I liked about her voice.
As, not only does Ella Deer not have an Austrian accent when she sings, she has a sweet, quirky and very pretty twisting lilt to her pronunciations and her phrasings.
A lilt that makes Ella sound almost Irish in the way she sings certain words. Something that fits in perfectly with her folk pop sound, considering so much iconic folk music comes from that fair land , but also something that makes her music stick with you.
Liquid Sun — Ella Deer's debut EP — is lovely
The song from Liquid Sun I remember loving previously is 'Anybody's Words', the second track on her new EP. The track with a big musical intro that melds right into Ella's gorgeous vocals, and has the most beautifully haunting strings accompaniment.
So there I was playing 'Anybody's Words' in my kitchen this afternoon. Not once, but many times. And, yes, I am happy to say it is still as memorable as on first-hear as well as a song I now have on repeat and repeat and repeat.
And, while her press info says Ella Deer's style is comparable to Regina Spektor, Lily & Madeleine, and Anais Mitchell, while I agree with some of that, I also hear Sinéad O'Connor in her phrasings and in her vocals, as well as German singer Lena.
Sinéad O'Connor when she was still young, earnest and wanting to tell her side of the story, during that short period of time before mental illness seemed to make getting through life incredibly difficult for her.
And Lena when she won the Eurovision Song Contest with her song 'Satellite', because Ella Deer has a similarly quirky and lovely way of pronunciation, and of singing.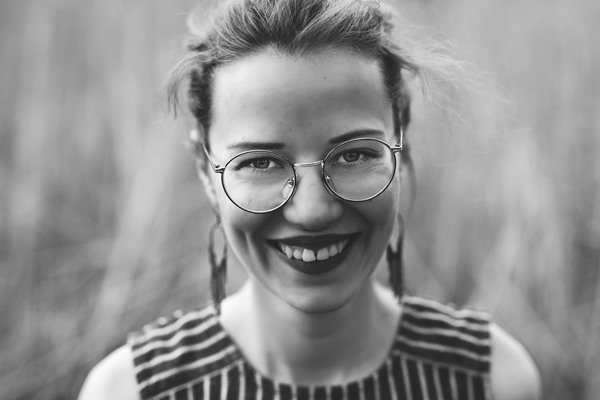 The other three tracks on Ella Deer's Liquid Sun are equally as pretty as 'Anybody's Words' — 'Every Little Thing', 'Liquid Sun' and 'Iceland' — and equally as addictive.
Particularly as, even though their lyrics are somewhat melancholy, their melodies are so upbeat and addictive, the double bass and heavily strummed guitar add this gorgeous richness to the sound, and the lyrics…yes, those wonderful lyrics…are just as perfect in every song.
So…in other words, Ella Deer didn't just pop back up in my orbit over a year after I first learned of her existence, with Liquid Sun, she slammed her way in.
And, boy, am I glad she did.
Because Liquid Sun has just joined the other Audio Heart Records EP I have had on repeat for absolutely bloody months now — Mark Peters' Sum Of All Parts.
And I guarantee you, I will be playing hers just as often.
Ella Deer's Liquid Sun releases on June 28th on Audio Heart Records. Along with Ella, you will also hear the talents of Ulli Grill (vocals), Roman Mayrhofer (double bass), Sascha Liebich (Guitar) and Martin Pöchmüller (drums).
The EP will be available on all major music platforms and, when you do go searching for it, join me in what I am doing and play the hell out of it.
After all, with that voice, that guitar playing and those songwriting skills, Ella Deer deserves to be very well known indeed.
Meanwhile, until you can listen to Liquid Sun, I'll leave you with a live version of 'Liquid Sun' that Ella sang at a Sofar Graz performance back in 2016 in the video below.
Isn't that just the loveliest thing?
For more on Ella, check out her social media:
Facebook: https://www.facebook.com/elladeer
Instagram: www.instagram.com/elladeermusic
Youtube: https://www.youtube.com/watch?v=Zk9oOnpQ3nI
I am a Brit-American journalist, former radio DJ at 97X WOXY, and Founder/CEO of Leo Sigh. I'm also obsessed with music, anime, manga, and K-dramas. Help!