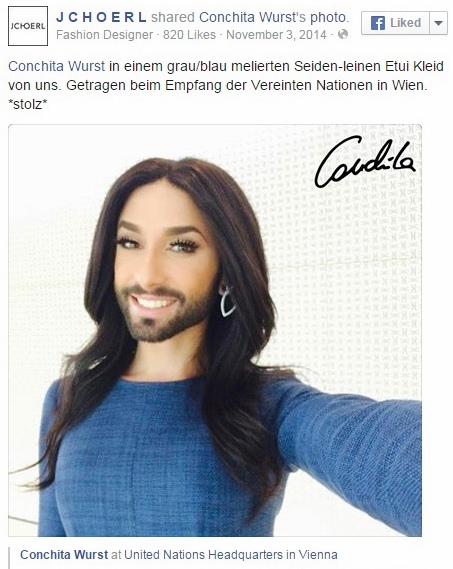 Every time I see a new performance, photo or interview with Austrian singer Conchita Wurst, I am always in love with the designer clothing she wears. In fact, out of all the outfits she has worn since her Eurovision Song Contest win back in May, I have only ever not liked two. To say she's worn at least a hundred designer outfits during that time, that has to be some kind of record.
What is even more surprising is a huge percentage of the outfits Conchita has worn, and I have adored, have come from Austrian designer JCHOERL. A fashion house that seems to have an eye for creating clothing that is stylish and elegant while, at the same time, unique and fun.
Out of every JCHOERL design Conchita has worn, I have loved……………all of them.
Because there is something about Conchita wearing JCHOERL's clothing that, not only suits her body perfectly, but often gives her an air of added glamour. And such an incredible I-feel-amazing-in-these-clothes aura radiating from her, you just can't take stop looking.
In fact, if I had my choice, Conchita would be wearing JCHOERL clothes most of the time. As they, and Conchita in them, really are beautiful.
With all the JCHOERL outfits Conchita has worn in the last few months, it really would take ages to look at them all. So I have picked out a few that are some of my favorites, so you can see just how lovely they are.
Conchita wearing JCHOERL on 'Starweihnacht bei Alfons Haider'
This is Conchita on 'Starweihnacht bei Alfons Haider' in a 1950s style cream three-quarter sleeve JCHOERL dress. With the tight bodice and sleeves, and that amazing bell-shaped skirt, she looks like the world's most fabulous doll.
Conchita in JCHOERL at The George in Dublin

Remember that stunning black mini dress that showed off her amazing legs better than anything else you've ever seen? Yes, JCHOERL. She wore that one at The George in Dublin, just over a month after her win at Eurovision. And you can guarantee that audience wasn't just applauding her voice and her win, but also how incredibly sexy she looked in that dress.
Conchita in JCHOERL at Trachtenpärchenball

This performance Conchita gave at Vienna's Trachtenpärchenball was one of her best last year, as it had everything. Unbelievable stage presence, rocking songs, a hugely appreciative audience, Conchita's tongue flick thing (sorry, Conchita, I just like it), and Conchita herself in the most beautiful black JCHOERL gown.
So incredible was that dress, she had a blast up on stage swishing that fabulous skirt around, and you could tell it made her feel more feminine than anything. Made me happy just watching her.
Conchita in JCHOERL at Stockholm Pride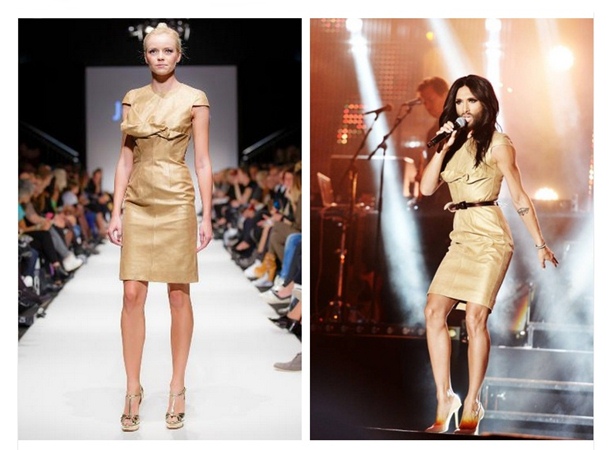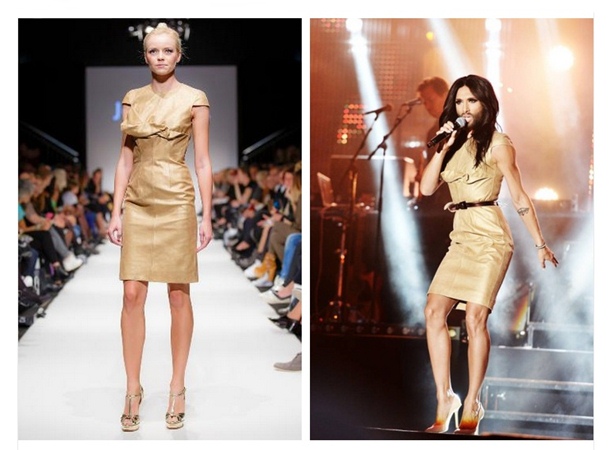 There's something about Conchita in an above the knee dress that says absolute elegance matched with unbelievable sex appeal. This stunning JCHOERL dress she wore at Stockholm Pride said both those things and more. Never mind that it accentuated her best-in-Europe ass-ets.
You'll find more of Conchita wearing JCHOERL dresses from the runway at Russia Loves Conchita.
Conchita in JCHOERL for every occasion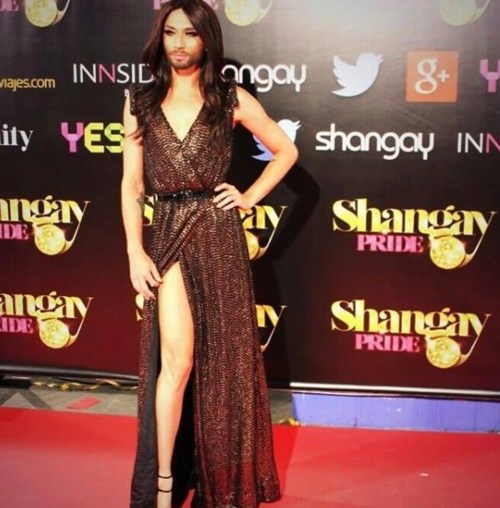 Whether she is receiving the 'Goldenen Rathausmann' from the Mayor of Vienna (that grey dress was chic and stunning, and perfect for the occasion), appearing at Shangay Pride in Madrid, Spain (let's face it, we all do love to see a bit of Conchita leg), or singing for a select few on stage at Gay Pride Amsterdam, (that red and white ensemble was so pretty) or, of course, speaking before Secretary General Ban Ki-moon at the United Nations in Vienna (see gorgeous blue-grey silk linen dress at top of page) Conchita wears JCHOERL.
And looks stunning every time.
So, being the demanding type I am, I'm just going to ask right here and now, can we please keep the perfect fashion combination of Conchita and JCHOERL for many years to come?
Because, in every JCHOERL she wears, she has rarely looked better.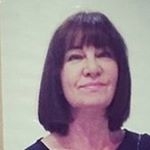 Latest posts by Michelle Topham
(see all)