Conchita Wurst and the perfect photograph
And then there's this.
A photograph I saw at 3am, as I trawled Instagram unable to sleep.
A photograph of Conchita Wurst, who is probably one of the world's most photogenic people.
And a photograph that perfectly captures who she is to me.
Part girl. Part boy. Incredibly vulnerable. Incredibly strong.
A person who has such steel-like strength it emanates from her when she walks into a room. But someone who has this heart-breaking vulnerability that reaches from her very soul.
Look at the photograph.
The swallowing darkness. The luminescent colors. The glowing spotlight over her head. Like a night star lighting the way. To her.
The intense emotion you can feel coming from her, but in such a gentle way. The quietness. The pain. The struggle. The calm. The focus. The ability to draw the eye away from anything and everything else, only to land on her and be unable to break free.
Her in another world. Being carried by her music. Seemingly alone. While all the while a concert hall full of people, silent and still, are hanging on her every breath.
A person who, every time I think I'm walking away from her because I've had my fill, pulls me back, grabs my heart and won't let go.
It's beautiful. Just beautiful.
Thank you Elena Jurievna.
**Photograph taken on April 14th, 2016 at the Republic in Salzburg, Austria. Conchita Wurst's second concert on her two-month long first concert tour 'Conchita Live mit Band'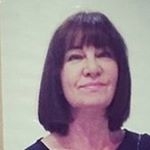 Latest posts by Michelle Topham
(see all)