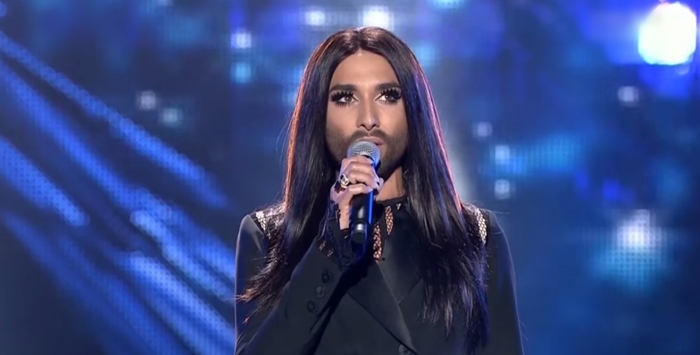 Conchita Wurst performed at the Witches' Sabbath 'Sabat Czarownic' concert in Kielce, Poland last night. A concert that was televised live. A concert that, as usual when Conchita visits more conservative countries, had more than its share of protests and threats against it, and her. So much so that, for the first time in the concert's six year history, audience members were banned from bringing bottles and metal objects to the show.
And while Conchita Wurst never publicly talks about the threats, abuse or negativity often thrown at her, I know her well enough by now, I can tell when it's in her mind.
After all, you would have to have no feelings at all to be able to shut out the idea that a show could be a potential disaster, simply because of the possible animosity of the crowd. And 'Sabat Czarownic'? It could have definitely gone that way.
What is beautiful about Conchita Wurst, though, is she has the capacity to shut out what could be an ugly situation, and just concentrate at the job at hand. Standing on a stage and delivering.
And what is magical about what she does, and what she did last night at 'Sabat Czarownic' is this. Faced with some audience members and a percentage of the television-watching public that, frankly, despised her, she walked out on the stage with one goal in mind. To "catch" them, and make them love her.
Breathtakingly beautiful and a bit of magic
And how did she make them love her at 'Sabat Czarownic'?
By being breath-caught-in-your-throat beautiful. By looking steadily and unflinchingly at the camera with those incredible doe eyes, and by delivering a performance that was one of the most spectacular she's ever given. And when she does that? People who hated her one minute, are willing to go down on bended knee and offer her everything they have the next.
So start the video of Conchita at 'Sabat Czarownic' below, and I'll walk you through it. As what she does here is a masterful display of someone absolutely at the top of their craft. And it's the magic of someone who understands people so well, she knows exactly how to "catch" them.
"Catching" you, and making you love her
Watch as she walks out on stage, the spotlight hits her and she begins to sing 'Rise Like a Phoenix'. It's here I could tell she's ever so slightly nervous. But if you haven't studied her as much as I have, you would never know.
Because she's looking into the camera with a rock solid gaze and, in the blink of an eye, she's subconsciously figuring out what the 'feel' of that audience is, and she's settling in to connect to them.
By the end of the first chorus of 'Rise', she's doing it. The perfect high note to open the chorus and, if you pull away from her for an instant, and concentrate on the audience, you can already physically feel their shift.
Because they're suddenly realizing she's one of the most beautiful creatures they've ever seen and, Holy Hell on a Broomstick (well it is Witches' Sabbath), can she sing. Which means she's already caught them. And now, she's going to pull them in.
Now watch what she does at the end of 'Rise'. As the last note lingers, and the audience breaks out into huge applause, Conchita gives that smile. You know the one I mean. The one that says "well, that took some work but, boy, was it worth it. Because now I know you love me". And then, of course, they do.
'River Deep, Mountain High' and the perfect choice of songs
With every performance Conchita Wurst gives, she chooses the songs she thinks the crowd will connect with. With 'Sabat Czarownic', she chose the perfect songs.
Opening with 'Rise', because it's the one most people know. Then singing a cover of Ike and Tina Turner's 'River Deep, Mountain High', as it's a familiar song for an audience largely unfamiliar with her, and it's a phenomenal song so liable to make them feel euphoric. And closing with 'You Are Unstoppable'. A song representative of her debut album 'Conchita', and one full of hope.
As for 'River Deep, Mountain High', I've spent the last year of my life telling Conchita Wurst she's a superstar on stage because I'm of the mind that, even on those days where she wasn't, if she got told enough she was, she would eventually believe it. And then…she would become it.
And last night, at 'Sabat Czarownic', with 'River Deep, Mountain High' (and it's follow up 'You Are Unstoppable',) that performance was so superstar and so spectacular, and I have so much to say about it, that song now gets an article all of its own. Because that is the best performance of any song she has ever given. Bar absolutely none.
So, in closing this one, I'll leave you with the comment that if Conchita Wurst thought she could "catch" a few people at 'Sabat Czarownic' last night, my sense is she probably more than exceeded her goal.
Because her performance last night was up there with one of the greats, and one that was so absolutely glorious in every way (including that stunning Jean Paul Gaultier pants suit she was wearing and those amazing Sergio Rossi shoes), you have to wonder if that Witches' Sabbath passed some of its magic on to her. As she was practically glowing with it.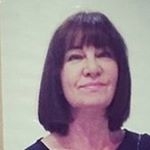 Latest posts by Michelle Topham
(see all)