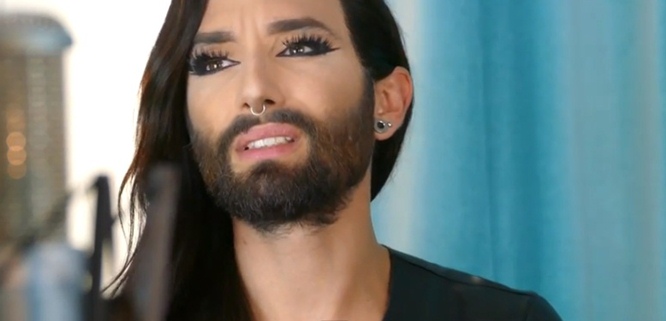 Conchita Wurst finished up an hour-long Facebook live chat earlier this evening. A live chat that saw the 27-year-old Austrian singer re-emerge from a three-month summer break, and connect with her fans for the first time.
But, rather than talk about what Conchita said, after all, you can watch the videos yourself on her Facebook page without having me paraphrase her for you, tonight I am more interested in her demeanor.
Advertising
Because she was giddy girl from the minute she appeared on screen, spent almost as much time on her phone reading texts from friends as she did talking to the camera, and then rambled so much at times it was all André Karsai, her social media manager, could do to keep her on track. In fact, I've rarely seen her so nervous.
But what was lovely about this is, as time goes on, she is being far more herself than she ever has before. And her Facebook live chat today was just another example.
Meaning, we are now getting less 'Planned Answers Conchita' as she was the year or so after Eurovision, and much more a Conchita who is starting to say pretty much what's on her mind the second that thought pops into her head. Even if some of what we got tonight came from her being so incredibly nervous she was having trouble staying in her seat, and her head was off thinking about something else entirely.
Which, of course, made her far more human and, for me, much more relatable to and much less of a caricature than she has sometimes seemed in the past.
Besides, coming up to the end of the hour, it became obvious why Conchita was so nervous. Because she had a surprise for her fans, as well as a situation for herself she had never been in before.
Advertising
The live performance of a song she had written, and a song that, according to her, wasn't even finished until yesterday. Ye Gods, the nerves. I can only imagine.
As for the song, it's called 'Blue Bloom', and Conchita sang it while accompanied on the guitar and in harmonies by singer Maria Burger.
And it's a surprise of a song itself. As it's not one I would have expected from her, at least knowing her music tastes, because it leans more towards indie folk than anything else.
It's also a song that still needs a little work lyrically because, as pretty as it is, it deserves better than clichés like "resting her eyes so peacefully, like Sleeping Beauty".
But it's a touching song. Not just because she wrote it, but because the music is beautiful, the sentiment behind the lyrics is heart-rippingly sad, and you can sense how hard she must have worked to try to get down on the page what she was feeling (I'm a writer, and I can tell you how bloody difficult it is to express exactly how you feel in the written word). Besides, it only needs a little bit of lyrics work, and she will have succeeded.
And, of course, it's obvious how much it meant to her writing it, and then performing it for her fans.
And, damn. Can that girl sing.
So, tomorrow, when I hit Vienna's Mariahilfer Strasse at 6am for my usual speedwalk, I will have Conchita Wurst's 'Blue Bloom' playing on my headphones for pretty much the entirety of my walk.
After all, it is one of those songs that, if you like to listen to music that allows you to feel emotions that might be a little too hidden, like I often do when I walk, this one is so sweetly sad, it's perfect. Well done, love.
Listen to Conchita Wurst's self-written song 'Blue Bloom' below in a demo video she uploaded to her YouTube channel soon after her live chat finished. And do be sure to watch how she looks when she's finished singing it. Because, at the close of the song, there's just a little peek at that girl again.
You know, the one who is, one day, going to break your heart, you're just so darned happy for her.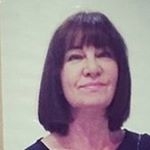 Latest posts by Michelle Topham
(see all)