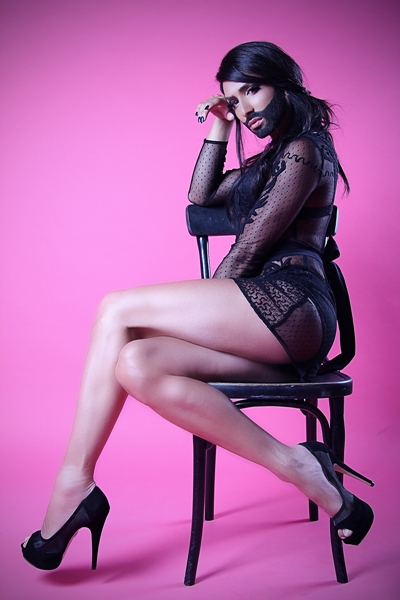 Director Sam Mendes was at Pinewood Studios yesterday, to reveal the name of the 24th James Bond movie. Now officially called Spectre, filming will start on Monday for the much-awaited movie, which will star Daniel Craig, Naomi Harris, Ben Whishaw, Rory Kinnear, Christoph Waltz, Monica Bellucci, and Ralph Fiennes.
Of course, as soon as the buzz over the naming of Spectre died down, the next furor to hit Twitter, and other places around the internet, was the question who was going to sing the Bond theme for Spectre?
Names thrown out so far have included Shirley Bassey, Lorde, Lana del Rey and Sam Smith.
All I can say to any of those names — lovely people, talented singers but, come on, there's only one person who should be singing the Bond theme for Spectre – Conchita Wurst, of course.
After all, she's already proved she can sing a big Bond theme-styled song spectacularly with her amazing Eurovision Song Contest winner, Rise Like a Phoenix. (And her other half, Tom Neuwirth, sings one of the best Goldfingers I've ever seen).
Add in Conchita Wurst is also stunningly gorgeous, so glamorous she's already appeared in projects for masters of high fashion Jean Paul Gaultier and Karl Lagerfeld, looked unbelievably sexy at her recent week-long appearance at the acclaimed Crazy Horse Paris and, well, it all boils down to this — Conchita Wurst is simply one of the hottest girls on the planet.
In fact, Conchita Wurst is just about the epitome of a perfect Bond theme singer. A huge voice, a larger-than-life personality, and hot, hot, hot.
I can even guarantee, if asked, the lovely Conchita would be delighted to appear in the film as a SPECTRE henchwoman as, according to the lady herself, she'd like to play a girl who's more than a little dangerous.
Which could lead to the question, if a woman as strikingly beautiful as Conchita Wurst was to ask 007 if he wanted his martini shaken or stirred, that famously cool man may be quite a lot more shaken and stirred than he'd like to admit.
And now we come to the fun stuff.
If you also think Conchita Wurst should sing the Bond theme for Spectre, there are currently two ways you can express your opinion.
Head to The Telegraph's website and vote for Conchita under the category 'Other', and then trot off to Twitter and tweet your wish as well — making sure you have the hashtags #Bondtheme and #Spectre in your tweet along with that gorgeous girl's name.
I am a Brit-American journalist, former radio DJ at 97X WOXY, and Founder/CEO of Leo Sigh. I'm also obsessed with music, anime, manga, and K-dramas. Help!