Conchita Wurst was back at Vienna's Rathaus last night for a midnight show at the Almdudler Trachtenpärchenball 2014 — the annual party that sees more lederhosen and dirndls out in Vienna than at just about any other time of the year. But, aside from the fact that the Trachtenpärchenball takes place in an incredibly beautiful building, and it looks like a lot of fun, Conchita Wurst's performance was what interested me.
As, from what is obvious, even from the couple of videos with poor sound that are currently up online – it was…..incredible.
And, because I analyze this woman's performances so much, (sorry, Conchita, I am obsessed – and actually, I don't apologize for it because when someone is this good, why wouldn't I be besotted?), can I just start by saying "Holy moley, Ms.Wurst, you kicked ASS". (And, yep, there goes my 'politeness' too!).
But, seriously, watch the two videos below – Conchita Wurst singing 'That's What I Am' and her latest favorite 'Unchain My Heart', and then tell me you wouldn't say the same.
Watch her body language and the way she moves. Smooth, majestic and flowing, completely and utterly self-confident, and absolutely in control of that stage. Vastly different from only a few months ago, when she often appeared stilted and stiff and a little bit lost (and, no, I didn't say that then because, God, you don't put that thought in someone's head until they've stopped doing it).
Now, however, she's grown into her own so much she's learning from every previous performance and, consequently, every one just gets better and better.
But this one? In terms of body language and stage presence, this one was sheer perfection.
So what about voice?
Seriously, need I even point that out? Well, if I must….watch 'Unchain My Heart' and then I'll tell you.
'Unchain My Heart' is obviously Conchita Wurst's favorite song right now and, frankly, can you blame her? Her voice is so beautifully suited to the complexity of the song. And, those high notes? Man, she can hit those better than anyone. And, here at Trachtenpärchenball, she did it even better than she's done it anywhere else. Ever.
What's just deliciously fabulous about this performance as well, other than that she's obviously having a lot of fun, and rocks the song, is how much she delights in playing with the audience.
Just watch the last 20 seconds of the video and notice that index finger held up in the air. She's telling them "Oh, please. If you think I'm good now, you haven't heard anything yet".
And then she lets rip with that last high note – belted out incredibly strong and held amazingly long – and you just think…… "Diva".
So, yes, this performance — on the stage at Almdudler Trachtenpärchenball – the best she's ever done.
But……… because I am so difficult to please, I do have one small complaint. And that's my minor disappointment that Conchita Wurst didn't dance. Then again, in that impossibly gorgeous ball gown, (and, honey, you looked beautiful) it wouldn't make much sense.
Besides, when there were not one but at least two incredibly sexy tongue flicks during 'Unchain My Heart' (and in my head, those tongue flicks were absolutely just for me!), you really are — forgiven.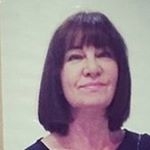 Latest posts by Michelle Topham
(see all)