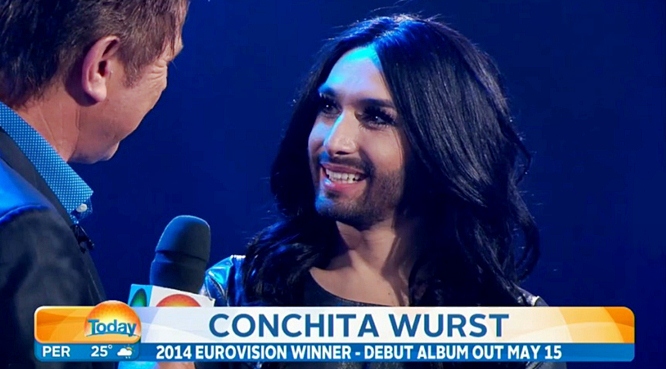 Conchita Wurst sings on The Today Show in Australia this morning
Conchita Wurst sang on Australia's The Today Show this morning and, boy, was she beyond lovely. Wearing another of those beautiful and huge A-line skirts she seems to like, and that look stunning on her teeny tiny figure, and a tight black short sleeved top, she was the flirty and adorable Ms. Wurst we know and love from the minute she appeared on camera.
In fact, Conchita Wurst's appearance on The Today Show is such a perfect example of why so many people love her, I just had to mention it here. Because she disarms you with her flirting, her gorgeous smile and her sparkling eyes from the minute you lay eyes on her, there's nothing else to do but love.
Watch how she flirts here with The Today Show's Richard Wilkins and, as the camera hits her, she even does this lovely thing where she crosses her feet, moves her hands to her voluminous skirt and smiles so widely and so warmly you can just about feel her soul. It's at times like this it always astounds me that anyone could see that lovely person and not just fall in love with her.
Wilkins, suitably disarmed, asks Conchita about what winning Eurovision was like (she can't remember), and what she thought of Guy Sebastian, Australia's entry ("I love the song. He's a great live performer and he's good looking. Which will help"). He also mentions her new book, although mistakenly adds "It's only available in German". It will actually be available in French on May 5th, and in English starting May 7th, as well as several other languages at a later date.
As for Conchita's performance of 'You Are Unstoppable' on The Today Show, this one was up there with her top performances of the song. Not only is she on point with just about every note, if you listen carefully she has this ever so slightly husky sound to her voice in a few places that makes it so beautifully rich. (Well, it is ridiculously early in the morning, she has been up for hours and she's probably still suffering from jet lag).
And after her performance, what I loved almost as much was the comment by The Today Show anchor Lisa Wilkinson who, beaming widely, said "Oh wow. What a sweetheart".
And doesn't that just sum up what a lot of people probably think when they first see and hear Conchita Wurst speak and sing? That she's absolutely not this person "making a mockery of women", as some of her detractors would have you believe. Instead, she's one of the loveliest, nicest, most talented and kindest people on the planet. And yes, a massive sweetheart.
Now watch Conchita Wurst on The Today Show in Australia in the video below, (I'm including this one as it shows the end segment with Lisa Wilkinson and Karl Stevanofic). I also recommend you watch the actual Today Show video on their website here, particularly if you like a more high definition video of her performances.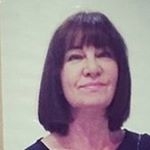 Latest posts by Michelle Topham
(see all)