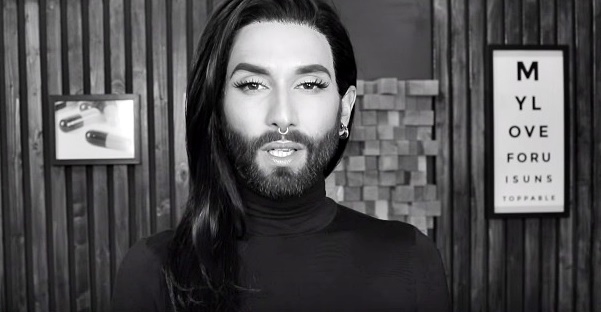 Just before Christmas, Conchita Wurst released a new music video quite different than anything she has done before. The video was filmed for a cover Conchita sang of Jessie Ware's 'Champagne Kisses'. The fourth single from Ware's 2014 album Tough Love.
A song, frankly, I have never been a fan of, as it's a bit repetitive and bland. And a song that didn't do much for Ware either, as it only peaked in the 169th position on the UK Singles chart when released.
So, when Conchita Wurst's cover of 'Champagne Kisses' popped up in my YouTube feed, my first thought was I would have loved to have seen the Austrian singer cover 9,000 other songs before I would ever want to listen to this. And then… I watched the video.
A video that is masterfully filmed and produced, and a cover of 'Champagne Kisses' I like far more than the original.
Because here is what Conchita Wurst has done that, to me at least, has made the song more interesting. She has taken the original song, which Ware sang beautifully in her usual soprano (and yes, Jessie Ware has a stunning voice), and rather than struggle to reproduce it in the somewhat falsetto she has used in the past, Conchita decided to drop it to a range she can solidly sing in.
A range that then took this pretty average pop love song to one that is far more sensual and sultry, and gave it some much needed sex appeal.
Which, when you look at the reality of the situation is actually incredibly cool. That someone who isn't really a woman (well, she is to me, but you get my drift) not only sounds sexier than the original singer but, in the black and white music video produced for it, she looks even sexier as well. (And nothing against Jessie, she's gorgeous. But, in this particular instance, Conchita beats her hands down).
Because, with the music video for 'Champagne Kisses', it's not just the way Conchita sounds here that sets you all a tingle, it's also the way she looks.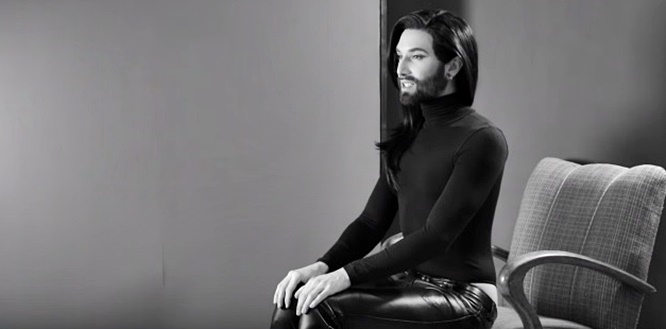 As this stunning singer, with her long steady gazes into the camera, the sexy looks she throws at you from under lowered eyelashes, that seductively raised single eyebrow, and the knowing smiles, has more sex appeal than most women I know. And that definitely includes me.
As for the production of Conchita's 'Champagne Kisses', it's not only beautiful, it's also very clever.
Conceived, filmed and produced by Conchita's social media manager, André Karsai, the video pays homage to Jessie Ware's original music video.
But, instead of choosing to copy Ware's concept, which someone with lesser skills would probably have done, Karsai used it as a base for his own artistic vision.
He filmed in black and white instead of the surreal-style primary and secondary colors palette Ware's video was shot in. Giving Conchita's video an elegance the original does not have, and making it a work of art in its own right.
He also took various elements of the Ware video — the vintage phone, the pills, the isometric pattern on the wall next to her, the 'press for champagne' button, and the word art — and reproduced them in framed art pieces on the walls. But art pieces that are far more appropriate for Conchita.
And in particular the word art, which Karsai changed from Jessie Ware's 'I love you tomorrow and always' to 'My love for you is unstoppable'. A nice nod to Conchita's fans, who she calls 'the unstoppables'.
Watch Conchita Wurst's music video of Jessie Ware's 'Champagne Kisses' below, and then the Ware video below that to see all the little features adopted from the original but then made completely Conchita's own.
The whole thing really is beautifully done.
As for the music production of the song, this was done by German multi-instrumentalist edo, who arranged the live-loops for the song, consisting of samples of his own voice, guitar, beatbox and synthesizer, to create a unique and quite addictive sound.
All in all, the coming together of three very talented people, and a video that is…stunning.
Thanks Conchita,  André and edo. It's lovely.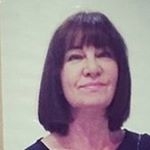 Latest posts by Michelle Topham
(see all)