Obviously, if you have ever come across Conchita Wurst's Instagram account, you know she has beautiful photographs. Elegant, stylish and creative, they tend to concentrate on her music career, the fashions she wears, and the human rights issues she supports.
But, as most die-hard Conchita Wurst fans will tell you, she has never been a particularly prolific Instagram user. Especially this summer when she took three months off, and her Instagram uploads trickled to almost nothing.
Then again, Conchita herself knows she's a bit clueless in this regard, as she admitted during her Facebook live event last week.
"I'm so lazy. I know, I can't…the whole Instagram thing, I get it. I understand that I don't annoy you with my pictures. And I understand that you are interested in the things that I do. The thing is, it took me a while to realize that. Because, with every posting I did I was like "Hopefully no-one is bothered" you know what I mean? I don't want to spam your news feed."
She then promised, "But I'm going to be a good girl in future, and I'm going to keep up doing social media work."
And it is interesting that, two years after winning Eurovision and with all the die-hard fans she now has, she still seems to be worried about "bothering people". (Because honestly, love, you're not and you never were).
In the last few days, though, it seems the lovely Ms. Wurst has finally figured out Instagram, as uploads have gone up at the speed of two or three a day. A huge increase from what we are used to, and something fans are now ecstatic about.
After all, when the singer you love is this gorgeous, you want to be able to see her as often as you can.
Plus, the big thing for me with Conchita Wurst's Instagram account, and why I want to see her continue uploading photos at the speed she has been doing over the last few days is this, (and it's something I would love her to understand).
If she really does continue to upload photos to Instagram on a very regular basis, the number of people following her (currently at 292,000) would increase rapidly.
And that is important for two reasons. One, of course, the more people that know who she is, the more people there are to listen to her music.
And two, when Instagram followers of a celebrity get to a high enough number, that suddenly brings in the interest of major sponsors who will pay anything from $10,000 to $500,000 or more PER SPONSORED INSTAGRAM PHOTO (Selena Gomez makes up to $500,000 per Instagram photo — ridiculous, but true).
And imagine what Conchita Wurst could do with that kind of money to help further her music career?
Because, for me, while I wouldn't want to see her doing a boatload of sponsored Instagram posts every time I checked my Insta feed, I sure as heck wouldn't mind if she did one or two a month.
Not if that meant she had a lot more money to spend on things like concert tours, album-related costs, other career-related expenses, and becoming even more popular and, therefore, staying in my life and everyone else's for as long as she possibly can. (Running a music career is crazily expensive, and it's one big reason artists disappear — the money just runs out).
So let's just end my monologue on Conchita Wurst's in-high-gear Instagram account by saying will you all please cross your fingers that the current speed in which Conchita Wurst is uploading Instagram photos continues. Because it will certainly benefit us with all the pretty photographs we will get to see. But it will benefit her even more. And that's what I care about.
And finally, if you do not have an Instagram account and you love her, please open one and 'Follow' her account. Because every follow she gets is like a vote you are giving her, as well as proving to potential sponsors how much she is loved, and how smart they would be to hire her.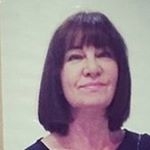 Latest posts by Michelle Topham
(see all)