There are three things in my life I'm the self-appointed protector of — animals, my parents and friends, and Conchita Wurst. On that last one, don't even ask me. Because I have no idea why I feel the need to protect a 26-year-old Austrian drag queen who I've never even met. But I do.
That being said, when Conchita Wurst's new single 'You Are Unstoppable' had its first radio play today on Austrian radio station Ö3, before I'd even heard it, my first instinct was to write about it to protect. Regardless of whether I liked the song or not. And that's where the problem comes in. Because if I censor what I say because I worry about hurting her, then I'm useless to her. I'm just one of thousands of others who will tell her anything they think she wants to hear, and I might as well just close my laptop and log off.
So, here's what I think about Conchita Wurst's new single 'You Are Unstoppable'; a single I recorded directly from Ö3 so I could listen to it again and again before writing my review. To be sure I really thought what I thought. (50th listen through or so, at this writing, no exaggeration).
Orchestral songs are always my favorites, and Conchita, her voice fits them perfectly. So, at the opening bars of 'You Are Unstoppable' where all you hear is the orchestra, I already loved it. The first verse, too, is lovely, with simple lyrics that, in their simplicity, actually serve to make the song powerful. More of an anthem than just a song, really.
As for Conchita's voice? Come on, it's Conchita. When she's 'on point', there's no one can beat her and, on the first verse of 'You Are Unstoppable', she's more than on point. She's superb.
Then the chorus hits and Conchita…….. disappears, and you're hit with an overly loud orchestra and a chorus of voices that swallow hers whole. And when you think of how powerful her voice is, that's difficult to imagine. To mix the song to such an extent that she's barely distinguishable in all the other sounds.
(And Conchita, don't you dare stop reading now, or you'll never know how it ends).
And then I put on my headphones and I listened to it again and again and again. Trying to fight my way through that cacophony of sound to get to her. And you know what happened when I did that? I started to dance. And that's when this song began to make sense.
Because 'You Are Unstoppable', as it is now, is a perfect celebration of Conchita Wurst, her message, and her unstoppable force of will. A loud and joyous anthem, if you will. And it's one of those songs, even with the loud orchestra and backing vocals, you know she will rock in huge concerts, the audience will scream the words back at her as loud as they can because they'll love it, and she'll be up on that stage singing and feeling like she can fly. And I want that for her more than anything.
But……… I'm not stopping here, because you do know me, Conchita. I'm a gigantic pain in the ass. And I want something.
I want a second version of 'You Are Unstoppable'. I want a live version you sing on TV, and for small audiences, where the orchestra and backing vocals are taken down just a touch, and where I can hear you more. Because 'You Are Unstoppable' is a phenomenal song, and you are a bigger tour de force than you will ever know. A tour de force that, in a smaller venue and without a pumped audience and the right atmosphere, runs the danger of being a little lost in that wall of sound.
Until then, Conchita Wurst's 'You Are Unstoppable' will be available on iTunes on March 5th. And, yes, I will be buying it. It is a beautiful song.
Now I'm off for my 51st listen of it. Turned up as loud as it will go. With headphones. And dancing.
Looking for more information about Conchita Wurst? Try these
Conchita's first Israeli TV interview – beards, threats and "my moment"
Conchita Wurst is on 'Fashion Police' and she's a mega hit
Conchita Wurst and the bigots: Why she will win and they will lose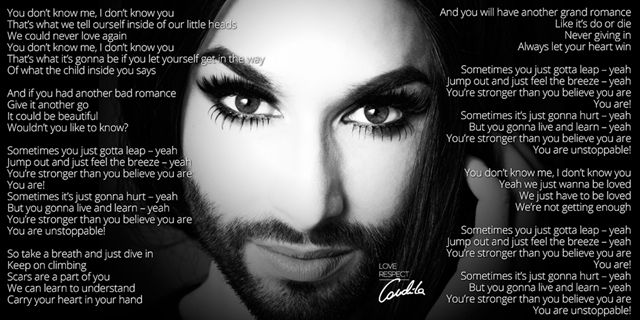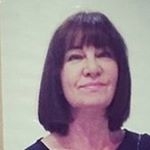 Latest posts by Michelle Topham
(see all)