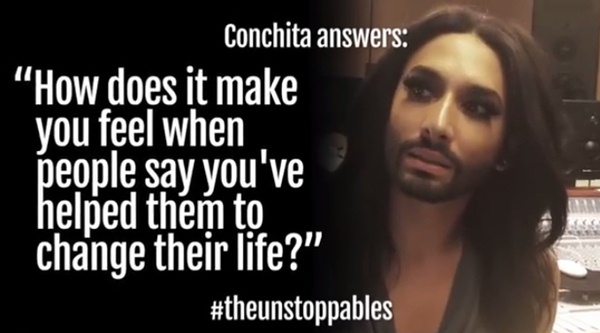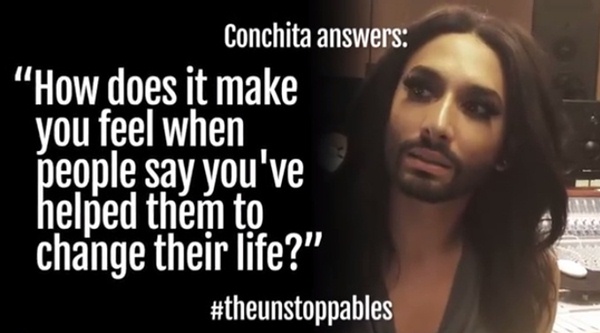 Just a quick nudge if you haven't seen this already. Conchita Wurst has a new video series up on her YouTube channel that's well worth a watch – Conchita Answers.
Each video is usually less than a minute long and has Conchita giving an answer to a specific question asked by a fan. Questions range from "What is the meaning of your tattoos?" to "Why do you sing Unbreakable so seldom?"
Answers are in English or German depending on the video, but whichever language it is, the translation for the other language is in the description section below the video, so you'll always know what she's saying.
Personally, I think the first three are the best so far, as they were filmed at home in her apartment, and they seem to be a bit more relaxed.
The last few were filmed in the studio where she was working on new music.
The problem with these is she had a cold so sounds incredibly stuffed up and sick, and itis hard to concentrate on her answers when you feel so bad for her you just want to hug her. (What can I say? Her health and happiness over………well, anything else. Sorry, no apologies for how I feel).
Answers, however, are interesting and it is nice that she is spending the time to do these for her fans. Especially as they give a little bit more insight into who she is, and how she feels about certain issues.
There should also be new Conchita Wurst answers videos going up every week filmed in other locations, and minus the cold, so do make sure you subscribe to her channel and then you won't miss them.
I am a Brit-American journalist, former radio DJ at 97X WOXY, and Founder/CEO of Leo Sigh. I'm also obsessed with music, anime, manga, and K-dramas. Help!