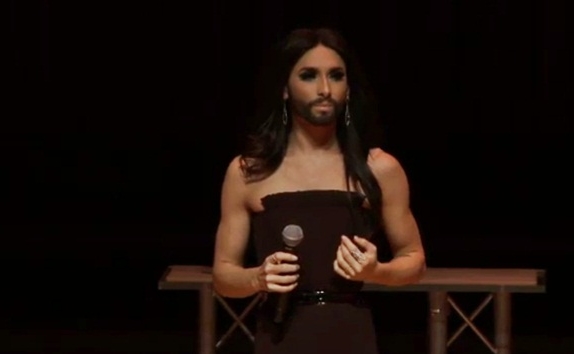 Conchita Wurst was at the Observer Ideas Festival on Sunday evening at The Barbican in London, where she spoke about a united Europe and sang her Eurovision winning song 'Rise Like a Phoenix'. As always she looked stunning, this time in a gorgeous floor-length gown.
The Austrian singer was the last to take the stage at the festival after a day of speakers ranging from food columnist Jack Monroe to whistle-blower-in-exile Edward Snowden.
But if the crowd of people waiting on The Guardian's livestream feed on YouTube for Conchita to appear were anything to go by, she was definitely one of the more popular speakers of the day.
Once she arrived on stage, she immediately began her speech, one centered around Scotland's bid for independence, the United Kingdom currently considering withdrawing from the EU, and what she thinks is the importance of a united Europe.
A Europe where she is happy to live because, as she said, "I am allowed to live my life the way I want it. I'm allowed to express myself the way I want it – the way I do right now. I'm allowed to live in freedom and in the bigger parts of Europe everybody is allowed to live in peace."
And a Europe where, she believes, it's better for a country like the United Kingdom to stay within the EU, and work with other countries to achieve their goals. As she said, 'everyone is stronger with a friend."
Overall, while Conchita does now have lovely speaking skills, what let her down again here, just like at TEDx, was her speech, which was unfocused and a bit confusing. With a good speech writer, though, she'd have every audience member on their feet at future events, as she really is a nice speaker. (And sorry Conchita, but I love you, so I won't lie to you about the speech as, in my mind, that does nothing but show you a disservice).
Conchita Wurst also performed 'Rise Like a Phoenix' as the last thing she did before leaving the stage, and she sang it absolutely beautifully. In fact, she's so perfect at singing the song at this point, it's pretty much a given if you hear her sing it live you're likely to be impressed.
Overall, the Observer Ideas Festival was another nice, albeit short, opportunity to see this lovely woman in action and, as usual, she didn't disappoint.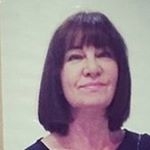 Latest posts by Michelle Topham
(see all)