Courtney Barnett & Kurt Vile's 'Over Everything' is going to be huge
Australian singer songwriter Courtney Barnett's 2015 debut album Sometimes I Sit and Think, and Sometimes I Just Sit, was massively successful and critically acclaimed.
Not only from fans and critics, but also from The Grammy Awards where she was nominated as Best New Artist and from the ARIA Music Awards where she received eight nominations and ultimately four awards.
This month, Courtney Barnett is back with new music. This time a collaboration album with Kurt Vile, former lead guitarist of The War on Drugs, and a new single "Over Everything' which, frankly, is one of the best things I've heard in months.
Because 'Over Everything' has a huge rocking beat, lovely rich twanging guitars, smart lyrics, a bloody catchy melody that will be bouncing around in your skull making sandwiches and drinking beer hours after you first hear it and these two — Courtney Barnett and Kurt Vile – with these plain, down-to-earth honest voices that sound like they were meant to be together.
In fact, this song — it is going to be huge. And I don't say that about anything that often.
Courtney Barnett and Kurt Vile's new album is called Lotta Sea Lice, and will be released on October 13th. And man, that's going to be a long wait because this thing is going to be my album of the year. I can feel it.
It is also an album that wasn't really meant to happen as, according to Vile in a press release, the pair just planned to get together to do a bit of jamming and maybe record a song or two if they felt a thing. But "the vibe was so strong" they kept on going, and ended up with a whole lotta album. And lucky for us that they did.
Now watch Courtney Barnett and Kurt Vile's official video for 'Over Everything' below.
Because that video, directed by Danny Cohen and filmed in both the U.S. and Australia, is as cool as the track with these dryly funny tongue-in-cheek images of Courtney when Kurt is singing and vice versa that will just make you smile.
Then you can pre-order Lotta Sea Lice. Which I did 30 seconds after 'Over Everything' was finished playing the first time of the now-30 times I've heard it. Loud with headphones on and, of course, dancing around my kitchen playing a mean air guitar.
How about you?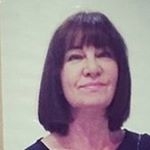 Latest posts by Michelle Topham
(see all)