Destined with You, Episode 13 earns very slight rise in ratings from previous episode
The ongoing Korean drama Destined with You is still stuck in the "mediocre" category of ratings in South Korea.
Not able to get above any iteration of 2.0 percent of the audience share, despite the show starring Rowoon and Jo Bo Ah, and still quite a bit down from the drama's first episode rating of 2.91 percent.
Then again, as someone who dropped the JTBC drama about six episodes in, I cannot say I am surprised.
Destined with You is poorly-written, and even the wonderful Rowoon can't save us from Jo Bo Ah's awful acting.
No surprise then that last night's Destined with You, Episode 13 only managed to earn a very slight rise in its ratings in South Korea — up from the previous episode's 2.09 percent to 2.21 percent of the audience nationwide.
In Seoul, the show's ratings were similar with Episode 13 gaining a slight increase from its previous episode's lowest rating of the season of 2.09 percent to last night's 2.26 percent.
A rise barely worth mentioning.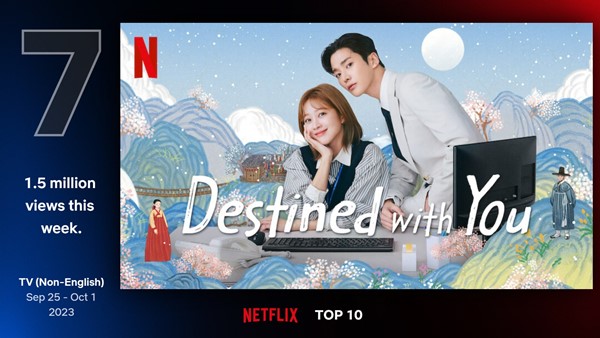 Destined with You's latest performance on Netflix
On Netflix, however, Destined with You has performed better with international viewers since it premiered on August 23rd.
With the latest numbers released from the streaming platform earlier this week, while the drama has dropped from last week's #5 most-watched non-English TV series to this week's #7, it is still being viewed by many.
So much so, the drama has had 1.5 million views in the last week, and with 20.2 million hours watched.
Those numbers are from before Destined with You, Episode 13 streamed, however, so we will have to see how it fares when this week's viewer numbers are released early next week.
With just three episodes left to air, Destined with You's final episode will hit on October 12th.
Let's see if the drama can get out of the mediocre category of ratings in South Korea with its final three episodes, or if it is destined to end with not-so-great ratings throughout.
Meanwhile, watch the Korean version of the trailer for Episode 14 below.
Yes, Jo Bo Ah's acting skills are still poor, but the K-drama is prettily filmed and Rowoon does provide a nice bit of eye candy, eh?
I am a Brit-American journalist, former radio DJ at 97X WOXY, and Founder/CEO of Leo Sigh. I'm also obsessed with music, anime, manga, and K-dramas. Help!