Doona continues to climb the rankings on Netflix
According to new viewer numbers just released by Netflix, the Korean drama Doona is continuing to perform exceptionally well on the world's most popular streaming platform.
Even better than the first week the K-drama was released.
Advertising
So much so, for the period of October 23rd to October 29th, Doona  was the 3rd most-watched non-English TV show on Netflix.
That ranking is up from the show's #7 ranking for the previous week.
Breaking down that information even more, it seems episodes of the Korean romance drama were also viewed 4.5 million times last week, for a total number of viewing hours of 31.8 million.
Doona is in the Top 10 in 43 countries
Break down that information even further, and you will also learn Doona was in the Top 10 in 43 countries last week.
Advertising
They include countries like Romania, Morocco, Japan, Jordan, Thailand, Bolivia, Brazil, Mexico, New Calidonia, Chile, El Salvador and Saudi Arabia.
You can check out the full list of all 43 below.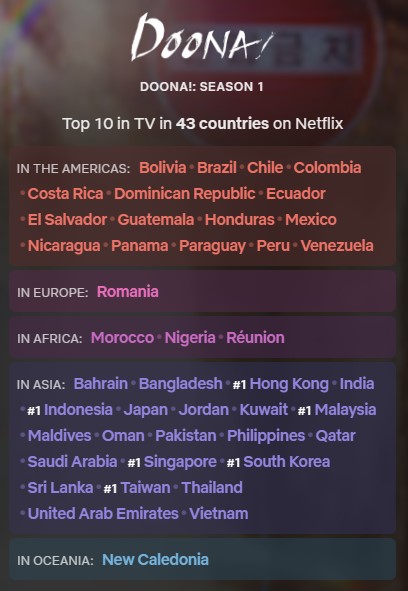 Not bad rankings for a Korean drama that didn't get a huge amount of promotion before it released.
Then again, with K-dramas now being one of the most-watched genres on Netflix, it isn't surprising so many of them are doing so well.
Doona one of many K-dramas doing well on Netflix
During the same week Doona was in the Top 10 for the second week, K-drama Strong Girl Nam Soon was also in the Top 10 for the fourth week in a row.
Other K-dramas that have recently premiered, and that sat on the Top 10 most-watched non-English TV shows on Netflix for several weeks, include Destined with You, Song of the Bandits, Behind Your Touch and A Time Called You.
RELATED: Doona is already #7 in the Netflix Top 10 despite only streaming for 3 of the chart's 7 days
As for Doona, the drama stars Bae Suzy and Yang Se Jong, and follows the story of a former pop idol who suddenly quits singing and moves into a university share house.
There she meets college student Lee Won Jun, who has no idea she is even famous.
All nine episodes of Doona are now streaming via Netflix.
Let's see how well it does in the Top 10 rankings next week, eh?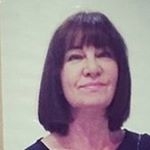 Latest posts by Michelle Topham
(see all)