English singer songwriter FKA twigs is back today with her first new music since her 2016 release 'Good To Love', and good God, what an incredible release!
Called 'Cellophane', FKA twigs latest single comes with a stunning music video of the 31-year-old singer slowly walking onto a mirrored floor wearing stiletto-heeled metal platform shoes.
Advertising
She then drops the robe, walks over to a dance pole, reaches back and begins to sensually gyrate her body in ever increasing waves as her voice begins to sing " Didn't I do it for you? Why don't I do it for you? Why won't you do it for me?"
Then begins a complicated pole routine, with spins, twists and turns that are so expert in form, it is incredible when you know Twigs has been learning pole-dancing less than a year.
And specifically so she could make this 'Cellophane' music video.
The video continues as FKA twigs climbs higher and higher up the pole, with her voice rising higher along with her physical form.
Close to the top, the sky appears and in it the faint form of a mechanical winged creature, slowly beating its wings until it arrives next to FKA twigs. Its metal mask peels back in slow waves, and it is then we see the metallic face of Twigs staring back at her.
Advertising
In alarm, she moves backwards, raises her leg and attempts to kick the creature away. But her foot disappears into its mouth, and then…she falls.
Spinning, turning, twisting and writhing, Twigs falls down and down and down.
But out of the darkness comes a hand, which grabs at her as she falls.
She grasps it, but the force of her fall pulls her away, and down she plummets again, until she lands in a pit of umber mud.
As she lies there gasping for breath, two beings crawl out of the umber dark and coat her in the thick, viscous mud.
The video ends with Twigs staring at the camera as we listen to her trembling breaths.
FKA twigs' 'Cellophane' music video is a masterpiece. Alternately fragile and gut-wrenching, and yet so very very powerful.
The music video was directed by Andrew Thomas Huang, and produced by Object & Animal.
Watch FKA twigs 'Cellophane' music video below.
And then watch it again and again and again.
Because the intense physical power she has as she pulls herself up onto the pole, and the way she is able to manipulate her body into twists, turns and stretches that look as if they may just break, they seem so impossible to do, belie the fragility of the song.
The song and the video will grab your very soul.
Related Reading: FKA twigs' live performance on KEXP is beautiful and ethereal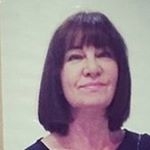 Latest posts by Michelle Topham
(see all)