Bluegrass, folk, Americana band The Devil Makes Three is sticking to their Americana roots with the release of their new album Chains Are Broken last month, and in particular with their new single 'Pray For Rain'.
But it is a song and an album that, while rooted solidly in their usual Americana sound, is a heckuva lot more rock n roll than the band has offered us in the past. And a new rock n roll vibe, mixed with that bluegrass and Americana feel, that turns new single 'Pray For Rain' into high energy, down home, foot-tapping fun that sounds much wilder than before.
How did The Devil Makes Three head in this direction?
Partially due to the inclusion of the band's touring drummer Stefan Amidon for the first time, as his insistent drum beat really adds a beautiful power to these new songs.
Also because of first-time-for-the-band producer, Grammy Award winner Ted Hutt, deciding to take The Devil Makes Three off in a new and more mature direction for this latest album.
And from the initially deceiving fun sound, that is actually richer and more and mature when you listen to it more closely, Hutt obviously had a huge amount of confidence in where he wanted 'Pray For Rain' and the rest of the Chains Are Broken album to go.
So he marched right in and took them there.
Chains Are Broken is the sixth studio album for The Devil Makes Three, aka guitarist Pete Bernhard, upright bassist Lucia Turino and guitarist and tenor banjo Cooper McBean. And now Stefan Amidon too.
The Devil Makes Three's 'Pray For Rain' is the glorious third single from the album, following on behind the previously released 'Paint My Face' and 'Bad Ideas'. And it is one that has been on repeat in my headphones for the better part of an hour today.
Listen to it in the video below.
You can also listen to Chains Are Broken in its entirety, and buy the album from these links.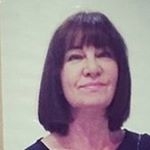 Latest posts by Michelle Topham
(see all)