In my book, Jimmy Kimmel is one of the best late night talk show hosts the US has ever had. So much so, you can pretty much guarantee he is going to have fabulous interviews with every celebrity on his show.
Celebrities like Pink, who appeared on Jimmy Kimmel Live!, and talked about her crush on Johnny Depp. A crush that made her act really awkward the one time she met Depp in a record store, as she explained to Kimmel last night.
"I didn't want to meet him. My husband made me meet him, which was so dumb"
And, of course, this being Jimmy Kimmel, it was obvious Pink was going to meet Johnny Depp again. And a lot sooner than she had bargained for.
A minute later, in actual fact, when Depp walked onto the set hugged Pink and kissed Jimmy Kimmel on the mouth. Making both Pink and Kimmel blush all kinds of pink, Pink to not even make eye contact with Depp and then announce "That was awful, you guys. This sucks!", followed by and "I hate you" to Kimmel.
And what is fabulous about this particular meeting is Pink has no problem at all performing in front of hundreds of A-list celebrities at the Grammys and doing aerial gymnastics while suspended from the ceiling on a few bits of ribbon, but make her meet Johnny Depp and she's terrified.
Watch Pink meet Johnny Depp in the video below, and see both her and Kimmel blush. It's fabulous, and very very cute.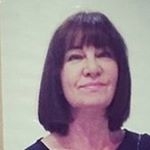 Latest posts by Michelle Topham
(see all)