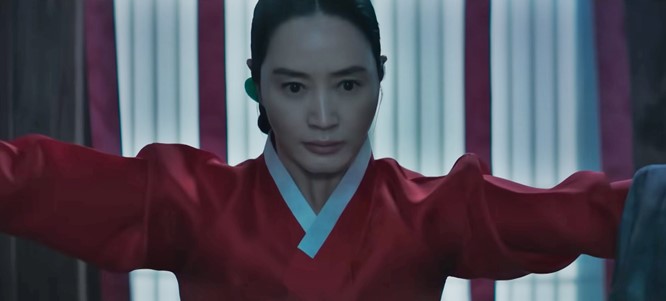 According to news out of South Korea, the fabulous Korean actress Kim Hye Soo is currently in talks to star in an upcoming drama from director Yoo Seon Dong.
The drama's tentative title is Trigger, although that is likely to be changed due to several other dramas/films with the same or similar title.
Kim Hye Soo, of course, is most recently known for her lead role as Queen Im Hwa Ryung in the smash hit Netflix historical drama Under the Queen's Umbrella, while Yoo Seong Dong was the director of the utterly crazy but absolutely wonderful 2021 drama series Bad and Crazy starring Lee Dong Wook.
The role Kim Hye Soo has been offered in Trigger is that of the team leader of an investigative reporting team working at Korea's first broadcasting company, Investigation Reporting Bureau.
The drama is due to begin filming before the end of 2023, with a projected release date some time in the first half of 2024.
Kim Hye Soo also starring in Smugglers
Meanwhile, Kim Hye Soo recently finished filming her latest move Smugglers, which is scheduled to premiere in South Korea on July 26th.
The action crime film was directed by Ryu Seung Wan (Escape from Mogadishu) with Kim Hye Soo starring alongside Yeom Jung Ah.
The two veteran actresses play two women who live in a small village in the 1970s and suddenly become involved with a smuggling scheme.
Meanwhile, until an announcement about Kim Hye Soo accepting a role in Trigger, watch the Under the Queen's Umbrella trailer below to remind yourself what a superb actress she has always been.
I am a Brit-American journalist, former radio DJ at 97X WOXY, and Founder/CEO of Leo Sigh. I'm also obsessed with music, anime, manga, and K-dramas. Help!