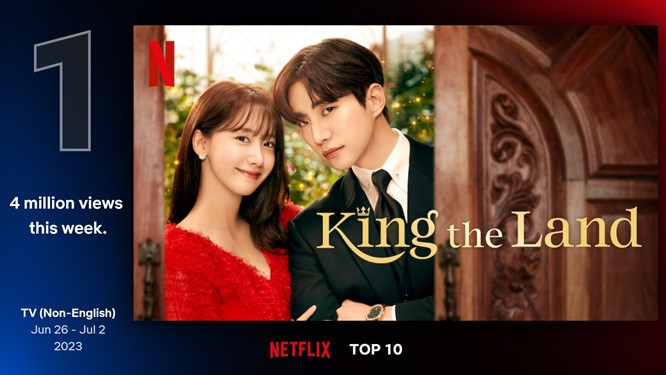 The South Korean romantic comedy drama King the Land is not only being watched by a huge number of Koreans, it is also apparenty being streamed by many millions of people worldwide.
In fact, according to Netflix, King the Land is the #1 most-watched Non-English TV show on Netflix for the period June 26th to July 2nd, 2023.
That is up from the K-drama's second place on the Netflix chart last week, and its third week on the Top 10 chart.
King the Land has 24.5 million hours watched on Netflix so far
Netflix's official numbers show the drama has had four million more views worldwide in the last week.
It has also currently had more than 24.5 million hours watched worldwide since its first episode premiered on the platform three weeks ago.
That is a helluva lot of people watching the Korean rom-com, eh?
What is King the Land about?
King the Land (aka 킹더랜드 in Korean) stars Lee Jun Ho and Im Yoon Ah, and follows chaebol hotel heir Goo Won and hotel employee Cheon Sa Rang.
Goo Won hates anyone who smiles with what he considers a fake smile, while Cheon Sa Rang smiles for a living.
When the pair first meet, Sa Rang accuses Won of being a pervert after a mixup with identities, and he detests her on sight because she is deferential to everyone and smiles so much.
Of course, once they are forced to spend time together, their feelings begin to change.
King the Land is wonderfully acted, the plot is tightly and beautifully written, and it is genuinely funny.
If you love a good Korean rom com and have not yet started watching this, you should as, apparently, half the people watching Netflix right now love it.
You can do that now on the streaming platform.
RELATED: Korean dramas are currently KILLING it on Netflix — check out which series are hitting it big
I am a Brit-American journalist, former radio DJ at 97X WOXY, and Founder/CEO of Leo Sigh. I'm also obsessed with music, anime, manga, and K-dramas. Help!