Laura Imbruglia's 'Diptych' is a multi-layered, rich ethereal wave style track
Australian indie rock singer songwriter Laura Imbruglia is finally back with new music this week after a six year break.
Her new single is called 'Diptych'. It is a song from her upcoming fourth studio album Scared of You, and is the first music we have heard from Imbruglia since her 2013 album What a Treat.
After that, Laura Imbruglia disappeared from the music scene to concentrate on Amateur Hour, a web-based arts show. Now she is back, and the result is 'Diptych'. A gorgeous multi-layered, ethereal wave of a song that is quite addictive.
'Diptych' is also very much the type of song we might have been graced with in the 21st century from the Scottish rock band Cocteau Twins. If that trio were still together.
Instead, it is left to people like Laura Imbruglia to use Cocteau Twins' gorgeous and densely layered music as an inspiration for their own.
As Imbruglia says about 'Diptych',
"I wrote this song at the Bundanon residency I participated in late last year. There was an abstract diptych on the wall, and it got me thinking about diptychs and humans and how some relationships resemble diptychs — one person/piece filling in important bits that the other person/piece is missing."
She then goes on to admit, "Anyway, this song is a bit more dark and moody than the last single. It's heavily inspired by Cocteau Twins, who I love."
As for what a 'Diptych' is, just in case you are not sure, Wikipedia calls it "any object with two flat plates attached at a hinge".
You can listen to Laura Imbruglia's 'Diptych' in the Spotify widget below. You can expect to see the release of her latest album sometime in 2019.
Learn more about Laura Imbruglia on her website.
Related: Laura Imbruglia's sister indie pop icon Natalie Imbruglia's 'Torn' is awesome break up music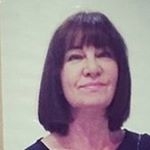 Latest posts by Michelle Topham
(see all)